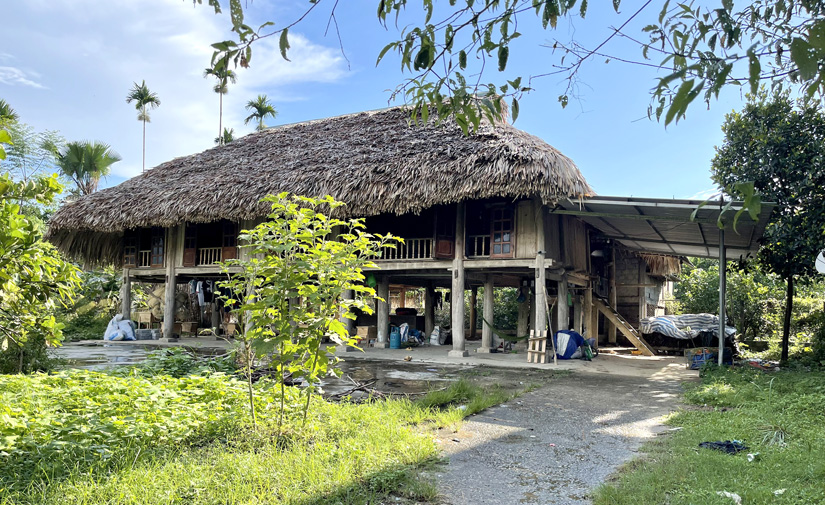 An ancient stilt house in Dong Son Hamlet attracts visitors.
Planting forests and fruit trees opens up opportunities for Dong Son to develop community-based tourism because people in Dong Son have still preserved the unique cultural identity of the Cao Lan ethnic group. Moreover, two lakes Ngoi La 1 and Ngoi La 2 in the locality will attract many tourists to fish, then visit the stilt houses and listen to Sing Ca melodies.
With these advantages, the People's Committee of Yen Son District has developed the project of Cao Lan ethnic culture village in Dong Son Hamlet, Chan Son Commune. The set goal is to build Dong Son village imbued with cultural identity of Cao Lan ethnic group in association with exploiting and promoting the scenic system for tourism development.
The commune authorities have mobilised local people in Dong Son to develop homestay-based tourism and organised special cultural and artistic activities. As soon as the Covid-19 epidemic under control, the Cultural Village will greet tourists. The district has policies to upgrade village roads, finish electrical lines and construct amusement parks. In addition, the district has also renovated Ngoi La lake and rebuilt Dong Son communal house.
The district has focused on building products of the cultural village in association with homestay experiences such as catering services, fishing, and boating on Ngoi La 1 and Ngoi La 2 lakes, participating in Lang La communal house festival. Chan Son Commune has planned the areas of growing specialty fruit trees and raising black pigs and chickens on hills for tourists to enjoy the unique cuisine of the Cao Lan people.
The promotion of Cao Lan Ethnic Cultural Village will be carried out by the district and commune via many channels, especially on the Fanpage of Tuyen Quang Newspaper.