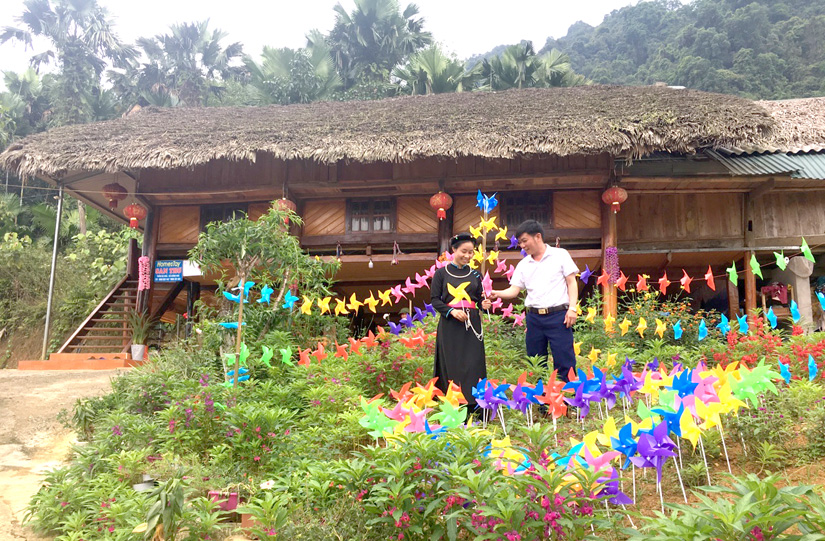 The beautiful campus is an advantage for Na Kha homestay facility in Nang Kha Commune, Na Hang District to attract visitors.
Homestay tourism villages have been formed in the province including Homestay Ban Ba in Trung Ha Commune, Chiem Hoa District; homestay Na Kha in Nang Kha Commune, Na Hang District; homestay facilities in Thuong Lam Commune, Lam Binh District; homestay services in Bo Cung Hamlet, Kim Binh Commune, Chiem Hoa District, etc. Local people have renovated traditional houses and exploited the potential strengths of culture, tourism, cuisine and identity of each ethnic group to develop homestay services.
Homestay Thuon Chang and Homestay Phieng Khang have become familiar destinations for travelers when visiting Ban Ba Waterfall in Trung Ha Commune, Chiem Hoa District. These homestay facilities not only have beautiful campus for outdoor activities such as 'nhay sap' (bamboo dance) and campfire, but also bring Tay cultural identity with a musical team welcoming visitors by singing 'Then' melodies. With a capacity of about 50 people, homestay facilities in the commune have been ideal places for holidaymakers.
Homestay Na Kha in Nang Kha Commune, Na Hang Distrcit are famous for the green space. Taking advantage of their fruit gardens, 11 households have developed fruit farm model for tourists to visit and experience. In particular, a dragon fruit garden in the commune was selected as a new-style rural garden model, fascinating many people. Visitors coming here can up pick ripe red dragon fruits and enjoy them right in the garden.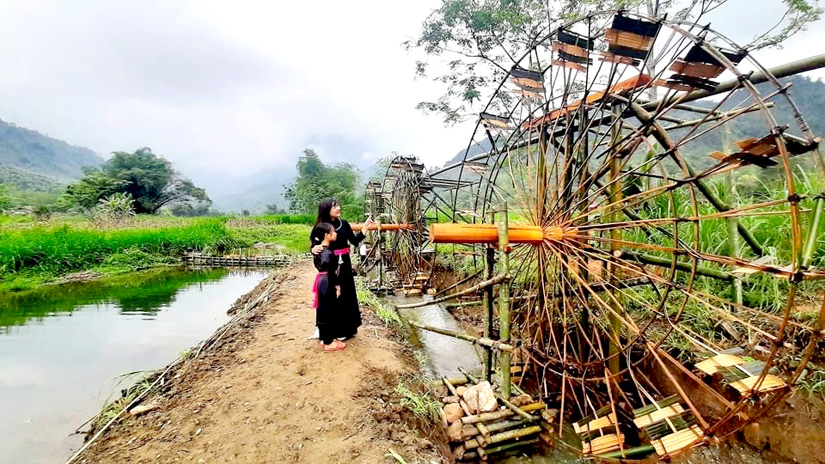 Tourists visiting a water wheel in Lang Can Commune, Lam Binh District.
In the highlands of Lam Binh, homestay owners have built travel tours to meet the tourists' demand. In addition, visitors can put on the costumes of Tay, Dao and H'mong girls, take pictures in the famous Thuong Lam paddy fields, boat on Na Hang ecological lake or taste many delicious dishes in the locality such as dried buffalo meat, hill chicken, river fish and many kinds of wild vegetables.
With their creative ways in developing homestay services, the Tay people in Tuyen Quang have been contributed to preserving and promoting the national cultural identity as well as making a unique impression on international tourists.