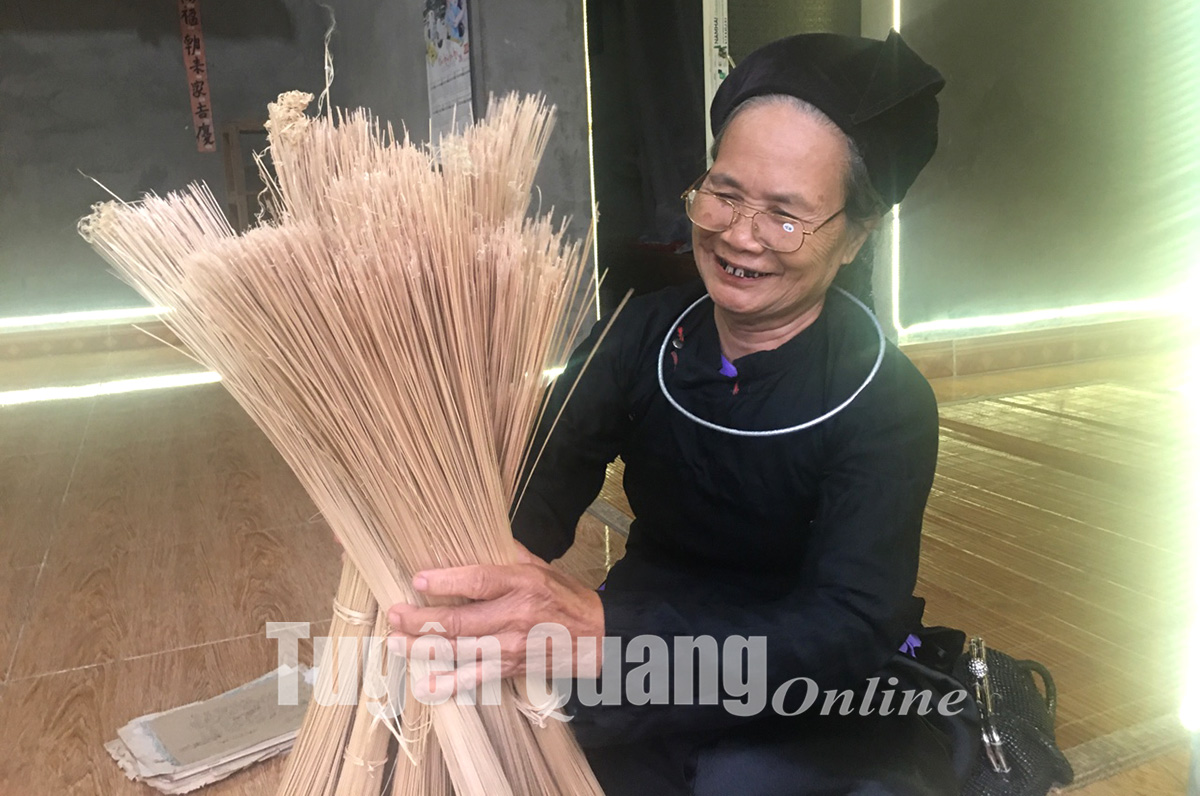 On average, Ma Thi Tieu earns VND100,000 per day from making bamboo toothpicks.
Most people in the resettlement area in the hamlet is mainly Tay ethnic people, who moved from from Trung Khanh Commune, Na Hang District. Ma Thi Tieu in 8 Hamlet and other women were both sitting to make bamboo toothpicks and listening to Then singing and gourd lute. She emotionally shared that she missed her hometown so much whenever mentioning it. However, her current life in the resettlement is more stable. Everyone in the hamlet strives for a better future ahead.
Local people usually make bamboo toothpicks in their free time. Ma Thi Cu said that with the selling price of VND120,000 - VND150,000 per kg bamboo toothpicks, she also earns about VND100,000 every day.
Following the asphalt road running into Hamlet 22, the scent of ripe rice is as sweet as dispelling the harsh sun left in the late autumn days. This is one of the most remote resettlement villages in the commune. Ma Van Du, Party Secretary, Head of Hamlet 22 shared that besides rice cultivation, some households in the locality have addition jobs such as tofu making and vermicelli production. There are only 2 poor households in the hamlet.
Thuat Yen rice noodles in Kim Phu Commune were exhibited at OCOP store in the province.
The most vibrant area is the end of the hamlet, where Thuat Yen Cooperative is located. Established in 2016, Thuat Yen Agriculture and Forestry Service Cooperative in Kim Phu Commune was known as a facility producing rice noodles and dry vermicelli. With a production capacity of 6 quintals of noodles per day, averaging 15-18 tonnes per month, revenue reaching from VND2.6 to VNd2.7 billion per year, the cooperative has created stable jobs for 9 employees with an monthly income of VND5 million per person. Currently, Thuat Yen rice noodles have sold at stores and supermarkets both inside and outside the province such as Hanoi, Hoa Binh, Cao Bang, and Ha Giang, contributing to promoting socio-economic development in the commune.
Compared to the first day of resettlement, the rhythm of life of local people has also changed because they supposed this land as their second homeland.