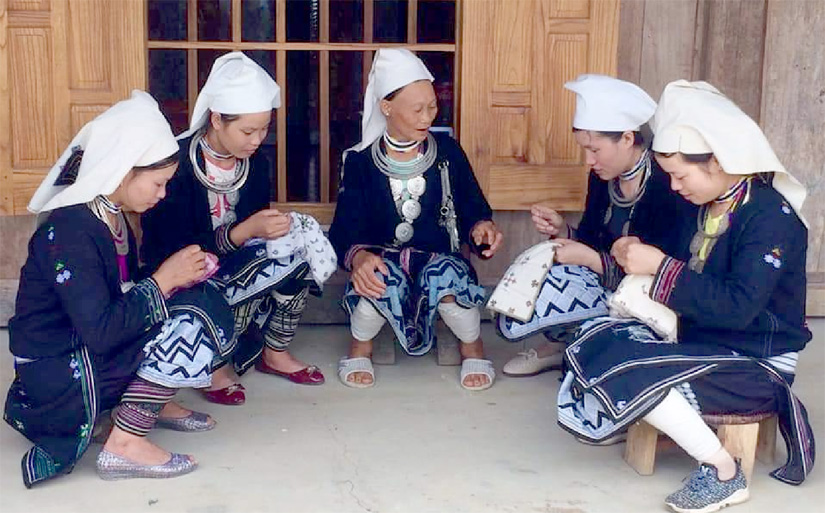 Dao Tien women in Khau Trang Hamlet, Hong Thai Commune, Na Hang District preserving the traditional embroidery craft.
Khau Trang is a central hamlet of Hong Thai Commune with 94 households and 446 people. The Dao Tien ethnic minority people accounts for 99% population of the hamlet. In the 2016-2020 period, Hong Thai Commune welcomed 44,600 tourists, social revenue from tourism was estimated at VND20,9 billion. In which, Khau Trang Hamlet holds a central position to attract visitors with its potential of homestay tourism.
Currently, there are 6 households in the hamlet developing homestay services. In addition, the hamlet has 3 catering facilities. Hong Thai Commune has set a goal of mobilising local people embellished at least 40 homestay establishments which are made of wood with yin and yang tiles by 2025, meet the demands of tourists.
In August 2021, the People's Committee of Na Hang District issued a draft on project of culture - tourism village in Khau Trang in the 2021-2025 period. Accordingly, the implementation budget in the 2021 - 2025 period is over VND17,6 billion.
The district has set a target of building Khau Trang Hamlet as a community-based cultural tourism village by 2025, greeting and servicing tourists both domestic and international tourists. At the same time, all households in the village are expected to provide tourism services and benefited from tourism.
The head of Khau Trang Hamlet Ban Van Khoai hoped that Khau Trang Culture Village will be an ideal destination for holidaymakers. He also believed that the living standards of local people in the hamlet will be improved as well as the cultural identities of the Dao Tien people will be preserved and uphold thanks to tourism.