Homestay A Phu in Na Tong Hamlet, Thuong Lam Commune, Lam Binh District is recognised as four-star OCOP product.
Thuong Lam Commune is famous for homestay tourism models with the traditional stilt house design of the Tay people. These wood stilt houses have decorated and rearranged by home owners to meet the demand of visitors. To improve service quality and promote the traditional cultural identities of local people, the People's Committee of Lam Binh District have proposed the service group of Homestay 99 Mountains in Thuong Lam Commune as a four-star OCOP product of Tuyen Quang Province in 2021.
The service group of Homestay 99 Mountains has 4 members, including Homestay A phu, Homestay Tai Ngao, Homestay Ha Cat and Homstay A Na. The group has standardized general tourism rules and regulations towards OCOP product. Every year, homestay facilities of the group welcome 4.000 domestic and international tourists. The annual revenue is estimated at over VND700 million.
Promoting its strength and advantages of tourism, in recent yearsm Lam Binh District has proactive develop unique tourism products in combination with OCOP programme such as Homestay, Shan Khau Mut tea, goat meat and wild vegetables.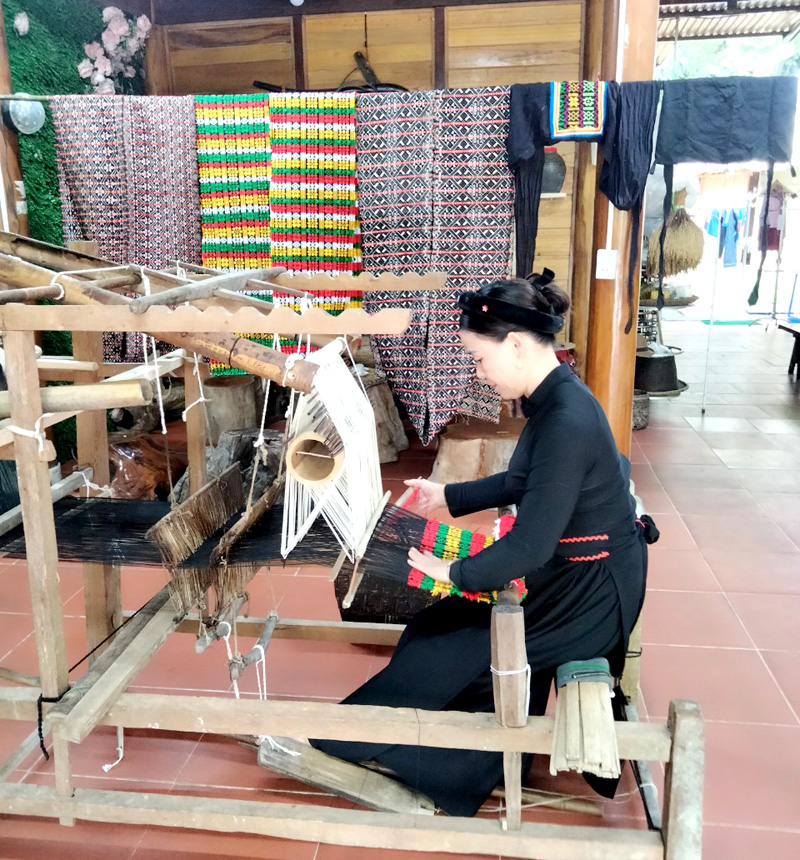 The traditional brocade weaving at Homestay A Phu in Na Tong Hamlet, Thuong Lam Commune, Lam Binh District.
Head of Department of Agricultural and Rural Development of Lam Binh District shared that Lam Binh District has 10 OCOP products, including 9 OCCOP products with three-star standards and a four-star OCOP product. The district strives to become a tourist destination, attracting holidaymakers both inside and outside the country. In addition to focusing resources on tourism infrastructure, the district is constantly improving quality and diversifying tourism products of the locality.
Recognised as a traditional tea village since 2014, Vinh Tan village in Tan Trao Commune, Son Duong District has more than 85% of households produce tea with a total tea area of 200 hectares. Tea trees are planted in concentrated region by farmers, creating beautiful stretching tea hills. Recently, Tan Trao Commune has combined historical tourism and experience tourism in the tea village, attracting a lot of visitors. Chairman of Tan Trao Commune People's Committee Hoang Duc Soai said that, aiming to develop tourism in association with typical local products, the commune will encourage farmers to grow lotus on uncultivated land in order to improve the commune landscape as well as make use of lotus for tea marinating.
Panoramic view of tea hill of Vinh Tan Tea Cooperative from above.
Son Duong District has 25 products under OCOP standard. In the coming time, the district is expected to develop more than 75 products participating in the OCOP programme. The district has actively displayed OCOP products at tourist sites to introduce the typical products of the locality.
According to Ngo Tuyet Nhung, Deputy Director of the Tuyen Quang Rural Development Sub-Department, tourism products considered as OCOP products will create positive changes in the tourism development as well as enhance the roles of localities, households, enterprises and cooperatives in creating typical tourism products.