Most locals live by fishing and raising fish in cages.
Cultural identities of the Dao people is foundation
The Dao people possess a huge and proud cultural property: "Cap Sac" ritual, Pao Dung melody and the decoration art on the costumes of the Red Dao were recognised the national intangible cultural heritages.
In order to promote this cultural treasure in the community, each locality across the province has their own way. With the Red Dao in Son Phu Commune, they select natural ways such as using their language in the daily life, preserving the traditional costume embroidery craft in the family, establishing performance team, collecting traditional folk songs and dances.
Discovering the beauty of Pac Hau Waterfall
Pac Hau Waterfall is located right along the national highway leading to Son Phu Commune. The waterfall flows from the top of the mountain down to the rocky slopes, forming different cascades. Each cascade has many ponds, creating ideal relaxing areas for visitors. During summer days, the waterfall is a destination attracting tourists both inside and outside the province.
The beauty of Pac Hau Waterfall
Realising the tourism development potential of the wterfall, local people have proactively introduced and promoted Pac Hau Waterfall on social networks such as Zalo and Facebook. The image of Red Dao women in traditional outfits standing beside the waterfall has impressed a lot of tourists. As a result, many young people came to this destination and incarnated the Red Dao boys and girls, posing amidst the beauty of the waterfall.
Experiencing activities of raising fish in cages and picking up Shan Tuyet tea
After visting Pac Hau Waterfall, tourists can experience the cage fish farming on Na Hang ecological lake. The area of raising fish in cages is most beautiful at sunset. In addition, on the floating houses, you can immediately enjoy delicious dishes from hemibagrus, a kind of fresh water fish on Na Hang lake.
Coming to Son Phu, tourists can experience the cage fish farming on Na Hang ecological lake.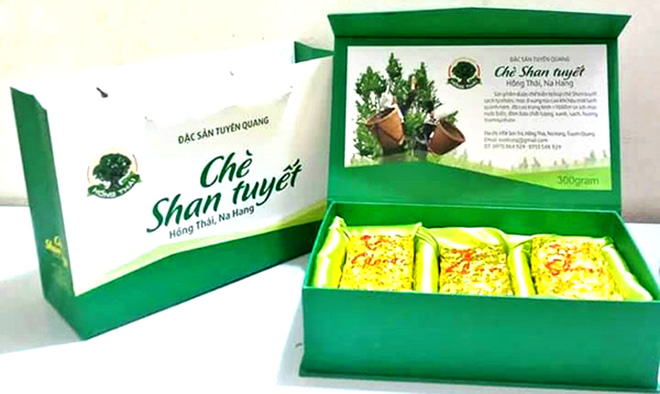 Shan Tuyet tea is a favourable products of holidaymakers.
In recent years, Son Phu is famous for Shan Tuyet tea growing region with a total area of nearly 100 hectares in Phia Chang and Na Con. Shan Tuyet tea product has confirmed its position in the market and it is the pride of local people. Therefore, if you want to visit the tea hills in Son Phu, everyone in the locality is ready to be your tour guide, even they are excited to wear traditional costumes or lend visitors their outfits to experience the activity of picking up tea buds.