Adapting to the Covid-19 pandemic
Homestay facilities in Ban Ba Hamlet includes Phieng Khang and Thuon Chang, those were opened at the end of July 2020. Due to the impact of Covid-19 epidemic, the number of tourists to Ban Ba decreased a sharp fall.
The owner of Phieng Khang homestay Ma Cong Su said that previously, on average, his homestay welcomed 30-40 visitors each month. Since stopping welcoming tourists due to the epidemic, he and his family members has switched to introduce the image of Ban Ba homestay facilities and the beautiful scenery of the locality on social networks.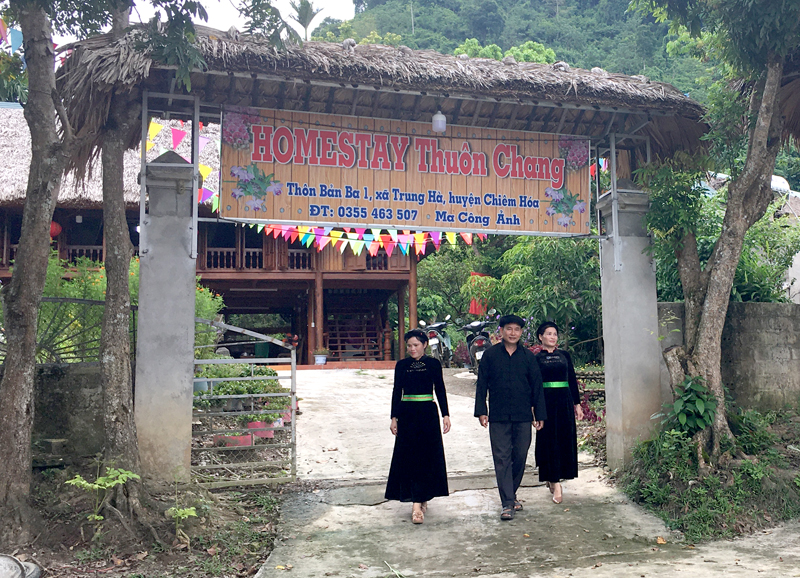 Homestay Thuon Chang in Ban Ba 1 Hamlet, Trung Ha Commune, Chiem Hoa District.
Following Phieng Khang and Thuon Chang homestays, three homestay establishments including Tat Cum, Bo Cay and Kem Mien also came into operation. Although facing many difficulties, the local people have still made efforts to maintain and develop the homestay tourism. They have continued to decorate their houses, renovated the garden campuses, planted flowers to be ready to welcome guests back right after the Covid-19 pandemic is brought under control.
In addition to 5 homestay facilities, Song Gam Co., Ltd. is investing in building a tourist area at the foot of Ban Ba Waterfall. Currently, there are 2 stilt houses, including 1 restaurant and 1 motel put into use. From now until 2024, the company will complete the remaining items, such as amusement park, resort, hotel, spiritual tourist area, etc.
Building community-based culture village
The Tay, Dao, and Mong ethnic people in Ban Ba have still preserved their traditional cultural identity such as stilt houses, then folk singing, coi singing, and Pao Dung singing.
Ban Ba is expected to become a community-based culture village by 2025. To achieve this goal, the commune will encourage local people to construct and embellish their houses and garden campuses. In addition, the local authorities will continue to mobilise more households to develop homestay models as well as call for investors to implement tourism projects in Ban Ba.
Along with the restoration of traditional stilt houses to meet homestay model standards, Trung Ha Commune has also surveyed and researched the culture identities of the Red Dao and Dao Tien ethnic groups for community-based tourism. At the same time, the commune has mobilised people to maintain and promote their cultural values, traditional costumes, and folk games, etc.
Cuisine is also a strength exploited by homestay establishments to attract vistors. Most of the specialties from pork, chicken, and fish are entered into the menu of homestay facilities, including grilled chicken, boiled chicken, fermented pork, steamed pork, grilled fish, and many wild vegetables such as bo khai, rau ngot rung, bamboo shoots, etc.
With a methodical approach, Ban Ba ​​will be an indispensable destination for tourists during the journey to discover the land and people of Tuyen Quang Province.