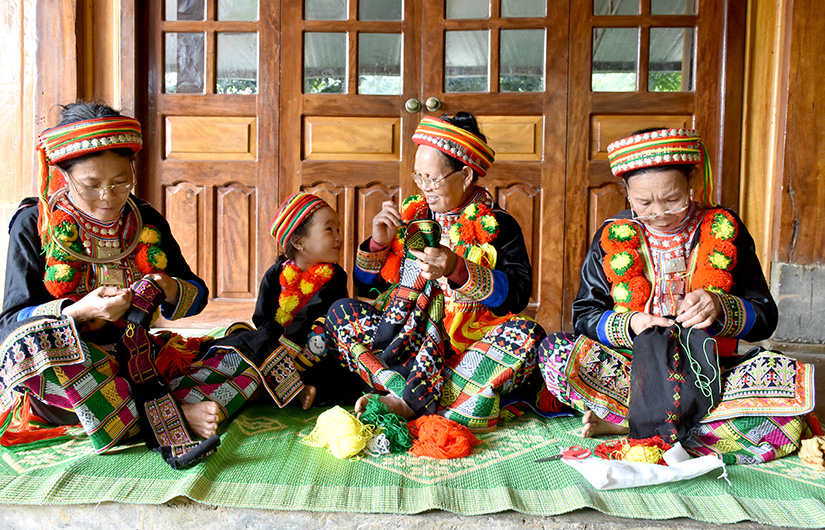 People in Phu Lam Hamlet, Binh Phu Commune, Chiem Hoa District preserving their traditional embroidery craft.
Phu Lam Hamlet has 102 households with more than 500 people, 100% of which are Dao ethnic people. Their lives depends mainly on agriculture. In recent years, local people have implemented economic projects and models suitable to the conditions of the locality such as expanding seedless persimmon growing areas and raising fatten goats. Currently, the hamlet has nearly 300 persimmon roots and 10 models of goat raising, bringing stable income for the Dao ethnic group.
Phu Lam Hamlet connected with national electricity grid at the end of 2020. As a result, the locals have had more access to scientific advances in labour and production. In 2020, the hamlet has reduced 13 poor households.
With 100% of the Dao ethnic group, most of the population in the hamlet has still preserved the original cultural identity of the Dao people. Coming to Phu Lam, in the quiet space of the mountains and forests, it is easy to listen the melodies of Pao Dung. The Dao people sing Pao Dung during festivals and daily activities.
In order to pass down the lyrics of Pao Dung to the younger generation, Phu Lam Hamlet established a Pao Dung singing club with 24 members in 2016.
In addition to Pao Dung melodies, the Phu Lam people are also known for their traditional embroidery craft. The scarves, clothes, belts with meticulous and beautiful patterns seem to imbued the feelings and emotions of Dao woman into their costumes.