Lang Can Town (Lam Binh District) was recognised as a V-grade urban area in November 2020. With the characteristics of a highland mountain region, the town strives to preserve the unique identity of the locality along with the social-economic development.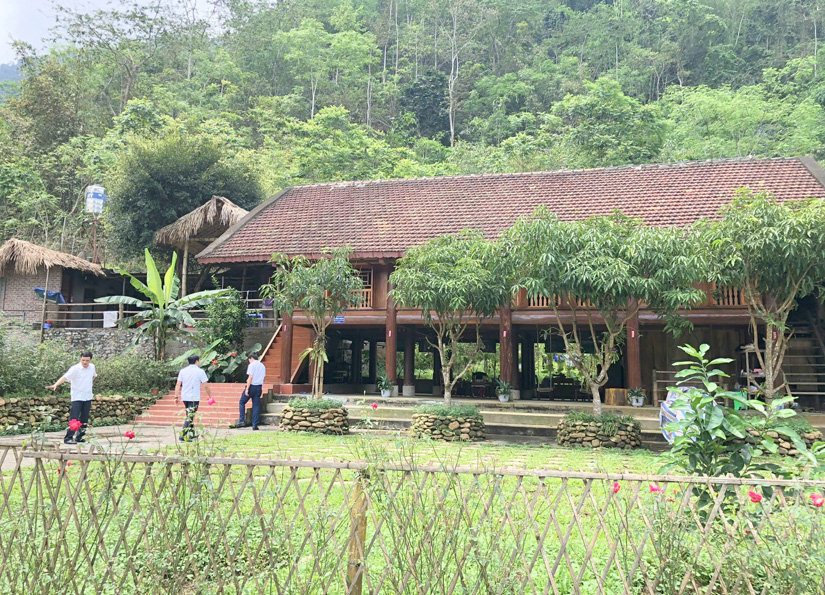 Stilt houses in Lang Can Town, Lam Binh District are embellished, becoming an attractive community-based tourism destination.
Keeping the name of Lang Can after becoming a V-grade urban area or the names of hamlets such as Nam Dip, Lang Chua, Ban Khien, and Ban Ke not only reduces the editing of administrative documents, but also is a way for people to remember their origins.
Fully tapping into advantages of having a large number of the Tay people with unique cultural identities, Lang Can has promoted tourism. Stilt houses of local people have been rebuilt and decorated as the homestay tourism facilities. Stretching paddy fields have become the "love road on the rice waves" check-in point. Water wheels, a familiar tool in the life and production activities of ethnic minority peoples have been a tourism product. The traditional weaving craft of the Tay people has been restored successfully. All of these has created unique and attractive tourism presents.
After being recognised as a ward of Tuyen Quang City, the lives of local people in My Lam Ward has also changed gradually. The area of agricultural land has been shrunk but the tourism and services have developed strongly.
Currently, the ward has planned to develop service areas in groups of Cay Tram, Group 17, Nuoc Nong and Lam Nghiep along the National Highway No.37 which is the headquarter of the tourist area.
In addition, the ward has planned 30-hectare specialised safe vegetables in Hang Huou and Phu Lam groups and 50-hectare VietGAP tea in Kim Phu Group and Group 18 in association with experience tourism, opening a new direction of sustainable enrichment of the locals. The ward authorities have instructed and encouraged farmers to change their crop structure in order to form flowers, vegetables, and tea villages, attracting a lot of visitors.
My Lam Ward in Tuyen Quang City is transforming in a synchronous and modern direction.
Like Lang Can Town, a lot of residential groups in My Lam Ward have still remained the old names, including Cay Tram, Nuoc Nong, Lam Nghiep, Kim Phu, ect, as a brief introduction to tourists about economic advantages of each localities. Traditional crafts such as rice in bamboo tube making and tea processing have been preserved by local people. Especially, ancient communal houses and village gates in My Lam have existed today.
Thanks to these traditional values, urban areas in Tuyen Quang Province have been more modern and dynamic and attractive.