In order to accelerate the growth rate, ensure the value of agricultural, forestry and fishery production to increase on average over 4% per year, and exceed the targets of advantage fields such as planting, exploiting timber production, raising livestock and having a number of advantageous cultivation products, the agriculture and rural development sector continues to effectively implement the policies on supporting high quality forestry trees; proposing to issue forest certificates according to international Sustainable Forest Management (FSC) standards for eligible forest areas. At the same time, the sector also expanded the scale of cattle herds (including dairy and beef); developing the model of raising buffalo in stables to fatten; and expanding the area of application of farming techniques according to VietGAP standards and organic standards for oranges, grapefruit and tea.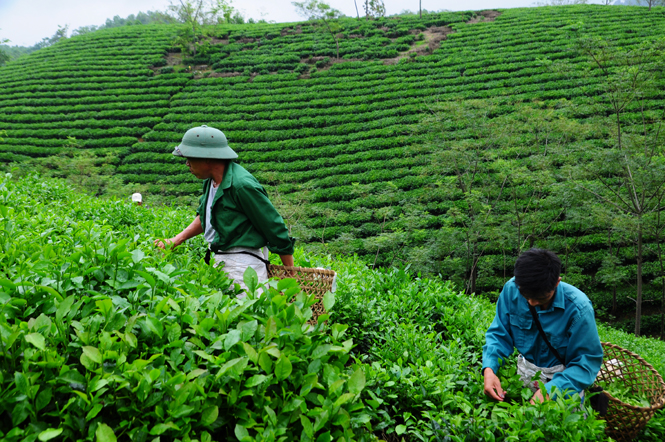 Tea garden in Vinh Tan Village, Tan Trao Commune (Son Duong).
The sector also cooperates with related units in researching and applying science and technology, improving productivity and quality, developing the Tuyen Quang agricultural products brand, and standardizing 74 agricultural products. Currently the sector has supported and granted the certification of goods for 47 products, including 37 products stamped for traceability.

Raising buffalo in stable at Kien Dai Commune (Chiem Hoa).
In addition, the sector continues to perform well in the role of the standing agency in the construction of new rural areas, coordinating with functional departments and agencies to effectively implement mechanisms and policies on agriculture and farmers and countryside, and mobilising resources to build new-style rural areas.