So far, 15 projects have been completed and put into operation, including many large-scale projects such as: the project to expand the Tuyen Quang iron and steel factory, the 25MW Tuyen Quang biomass power plant, a factory producing footwear for export, Tuyen Quang garment factory, and a wood processing factory, among others.
The province is also implementing key projects including three hydroelectric power plants in the districts of Yen Son and Ham Yen, and several leather shoes production projects. All the investors are committed to putting the projects into operation in 2020.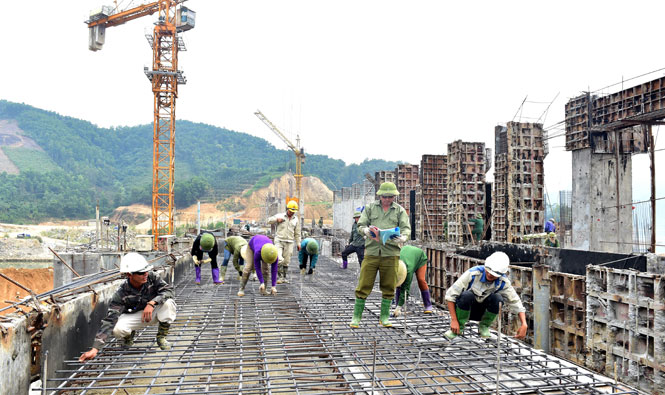 Workers at the Lam Son Construction and Trading Joint Stock Company work to accelerate the progress of the Song Lo 8B hydroelectric power plant.
The Song Lo 8B hydroelectric power plant, with a capacity of 27MW and an annual electricity output of about 109.07 million kWh, will be soon connected to the national grid, making a positive contribution to the industrial production value of the province. Meanwhile, the construction of the Song Lo 8A hydroelectric power plant, with a capacity of 27 MW and an annual electricity output of 103.47 million kWh, has been completed and other hydro-mechanical equipment is under way in order to begin operation in the second quarter of 2020.
The leather shoe factory run by CHUNG JYE company in Tan Thanh commune, Ham Yen district, is accelerating its construction progress. The investor has committed to put the project into operation in early spring of 2020. Upon its operation, the project will create jobs for about 8,000 workers.
With the investment attraction policy in accordance with the potentials and advantages of the locality, Tuyen Quang will have even more new projects, helping to increase the occupancy rate of industrial parks and clusters in the province.