Coming to Tan Thanh Commune, the largest area of ​​rami trees in Son Duong Sistrict, a green colour of green rami trees has covered on hillsides. These days, Dang Van Tai's family in Vinh Tien Hamlet are excited to harvest the 4th batch of this tree. Preliminary processing and drying stage are carried out at the hillside.
Tai excitedly said that, in July 2021, he joined Phu Son Cooperative and transferred 5 acres of land for planting corn to grow rami trees. After 3 months, he collected the first batch with 30-40 kg of dry barks per acres. With the purchase price of VND40,000 per kg, he earns more than VND24 million per year.
On an area of 4.5 hectares of hilly land specializing in maize cultivation, Nong Van Cong in Goc Chu Hamlet, Nhan Ly Commune, Chiem Hoa District converted to growing rami AP1 trees. He said that taking care of this kind of tree is not too difficult, the exploitation cycle is long. Especially, growing rami trees helps to improve the ecological environment because it does not have to use herbicide. He also shared that more than 1 month later, his family will harvest rami trees. The yield is estimated at more than 800 kg of dry bark per batch per hectare. With the purchase price of VND40,000 per kg, he will earn more than VND20 million per batch per hectare.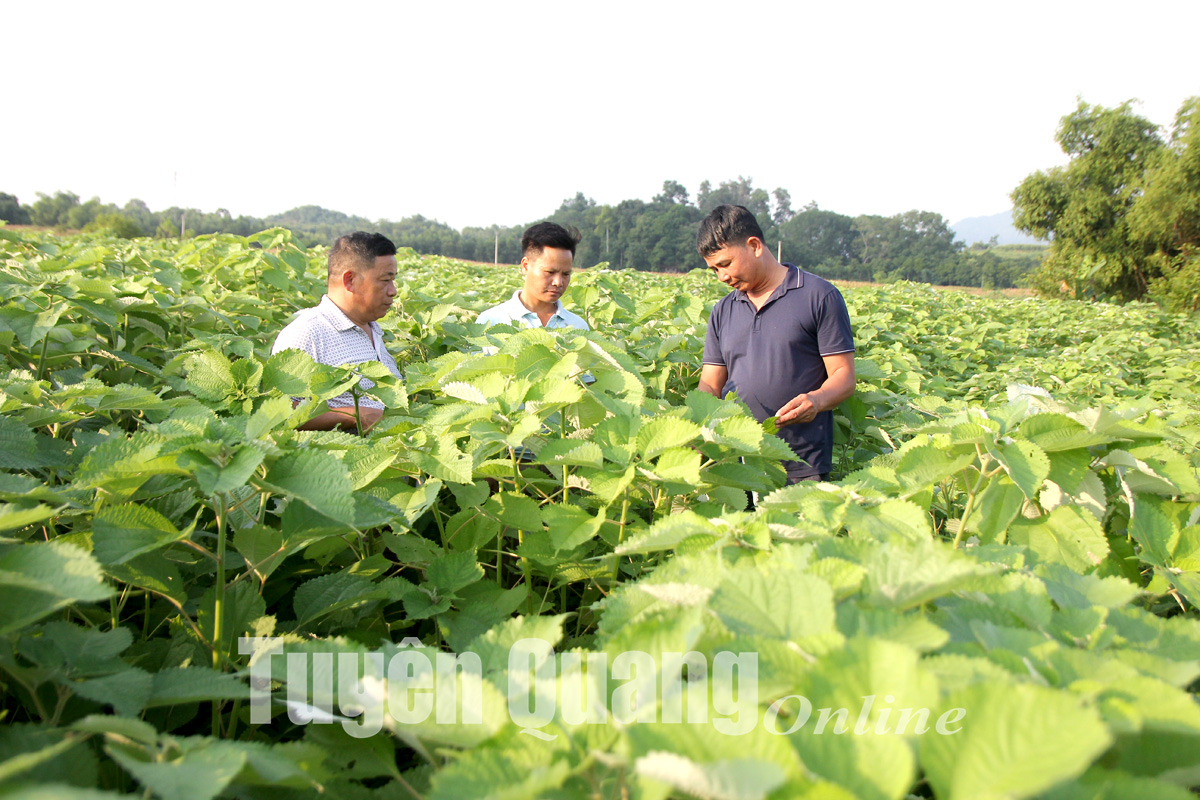 Pham Van Khiem, Director of Son Duong Agro-Forestry Cooperative (from right) instructs farmers on rami tree harvesting and care techniques.
Pham Van Khiem, Director of Son Duong Agro-Forestry Cooperative, said that the cooperative has 7 members and signed contracts with more than 200 households to plant more than 33 hectares of rami AP1 trees in Nhan Ly, Vinh Quang, Kim Binh, Linh Phu, Tan Thinh communes (Chiem Hoa District), and Minh Thanh and Khang Nhat communes (Son Duong District). In the coming time, the cooperative will continue to cooperate with more households in Yen Son District and Tuyen Quang City to expand 50 hectares to plant rami AP1 trees.
Deputy Director of the Provincial Agricultural Extension Centre Nguyen Thi Kim said that to date, farmers in the province have planted more than 70 hectares of rami trees, of which 22 hectares in Son Duong District, 5 hectares in Yen Son District, 33 hectares in Chiem Hoa District, and 9 hectares in Na Hang District.
Currently, in the province, the cooperatives of Son Duong Agro-Forestry Cooperatives, Phu Son Cooperatives (Son Duong District), Thang Dat Agriculture and Service Cooperatives (Na Hang District) are partners of An Phuoc Agricultural Joint Stock Company in developing rami material areas. These cooperatives have signed contracts with local households on the supply of seedlings, materials, technical instructions for planting, harvesting, and consumption of rami trees.
To sum up, the model of planting rami trees in Tuyen Quang Province has initially brought results, opening a new direction of economic development for local people.