Currently, Hung Thanh Ward possesses 20 hectares of vegetable growing land out of a total 24 hectares of fertile land converted from ineffective uses to safe vegetable models. The ward's advantages are locals' experience in cultivation, an abundance of natural water and the close proximity of their farms to restaurants.
Accordingly, new vegetable models with net houses are being implemented by local authorities. In particular, the People's Committee of Hung Thanh Ward has coordinated with Tuyen Quang Crop Production and Plant Projection Subdepartment to organise a training course for farmers on clean vegetable growth.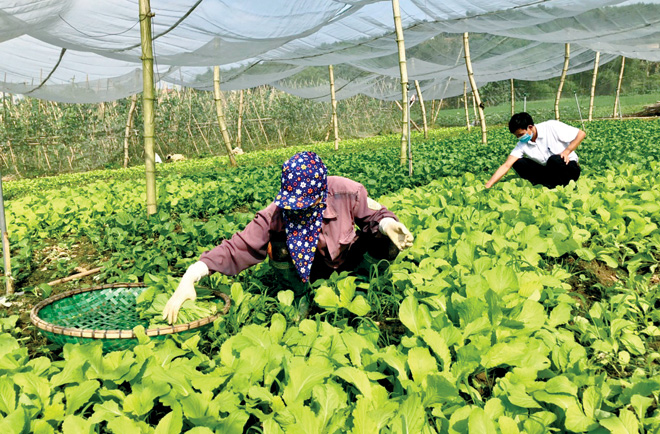 Vuong Thi Thu's family growing vegetables in a net house.
The People's Committee also plans to develop a tourism service area connecting with commercial centres, urban centres and restaurants, which will create great opportunity for people to develop clean product areas.
In the near future, when the Covid-19 outbreak is contained, Tuyen Quang Minerals Joint Stock Company will work with the People's Committee of Hung Thanh Ward on measures to support farmers to market their vegetables for sale at supermarkets.
The coordination in production of the ward authorities, local enterprises and people has not only created safe products for consumers, but also contributed to market stability and reduced the impact of external factors on farmers.