Tuyen Quang Province possesses 4.500 milk cows, mainly concentrated in the districts of Yen Son and Son Duong, belonging to Phu Lam Dairy Farm (run by Vinamilk), Future Milk Co., Ltd., Milk Farm of Ho Toan Dairy Company, and Hoang Khai Dairy Farrm.
The dairy farming of Future Milk Co., Ltd., is home to 700 dairy cows. In addition to processed feed, the company has signed contracts with local farming households to provide grass and maize as green feed for its cows. On average, the farm collects dozen tonnes of grass and over 20 tonnes of corn each day.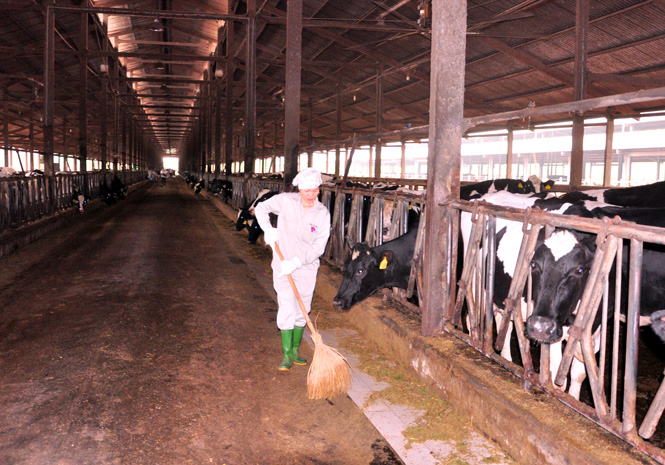 A worker at Future Milk Co., Ltd., caring for the company's dairy herbs.
The farm run by Ho Toan Company currently owns more than 800 HF dairy cows imported from Australia. In order to control food safety, imported grass and maize sources must undergo the KCS (quality control) system for each batch.
At present, Tuyen Quang farmers also benefit from growing grass and maize to supply to local livestock farms. On average, Yen Nguyen Agroforestry Cooperative (Chiem Hoa District) supplies over 3,000 tonnes of maize for feed at an average selling price of VND650,000 per kilogramme.
Male calves from local dairy farms have also become a source of breeding for the cattle fattening chain by the province's cooperatives.
Tuyen Quang is continuously promoting investment attraction in this field to increase added value, competitiveness and food safety for the local livestock sector.