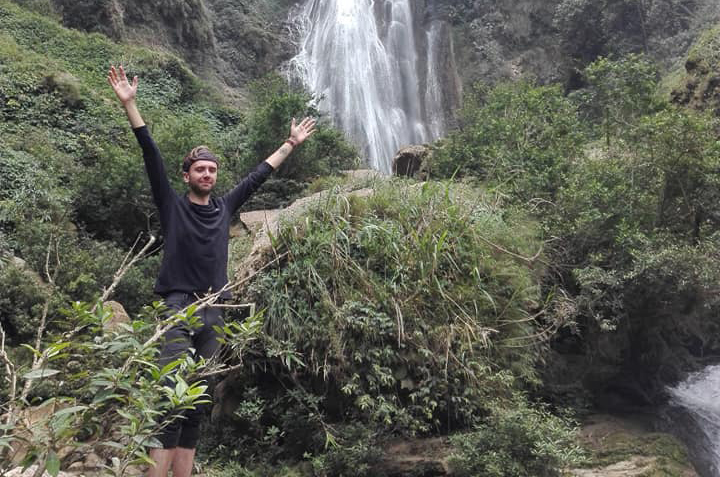 A foreign tourist posing for a photo in front of Nam Me Waterfall.
There are many routes to Nam Me Waterfall, however, they all end up with boats in order to reach the base of the waterfall. Visitors can follow the route starting from the foot of the Tuyen Quang hydroelectric dam to the Coc Vai tourist site then to Nam Me Waterfall. Otherwise, they also can travel through the wharf in Na Tong Hamlet, Thuong Lam Commune (Lam Binh District), by motorboat and then head to the fishing village of Phuc Yen, which takes visitors 45 minutes to reach the waterfall.
The waterfall flows from the old forests of Na Hang - Lam Binh nature reserve and falls down Hat Nghien Mountain in Khuong Ha Commune. Local people also refer to Nam Me Waterfall as Suoi Me (Mother Stream) Waterfall, while Khuoi Nhi Waterfall is known as Suoi Con (Child Stream) Waterfall.
From a distance, Nam Me Waterfall is seen as a soft white silk strip standing out from the green mountains and forests. The waterfall is separated into 15 layers, a strong flow of white whipped foamy water pouring all year round. Wild orchids grow on old tree trunks or on the steep cliffs.
Thanks to its ecological value and majestic beauty, Nam Me Waterfall has been recognised by the Ministry of Culture, Sports and Tourism as a national tourist site in need of protection and promotion.