The district has a total area of over 1,200 square kilometres, with about 80% the population being ethnic minorities, mainly the Tay ethnic people. To date, 11 households in the locality have registered to conduct homestay tourism services.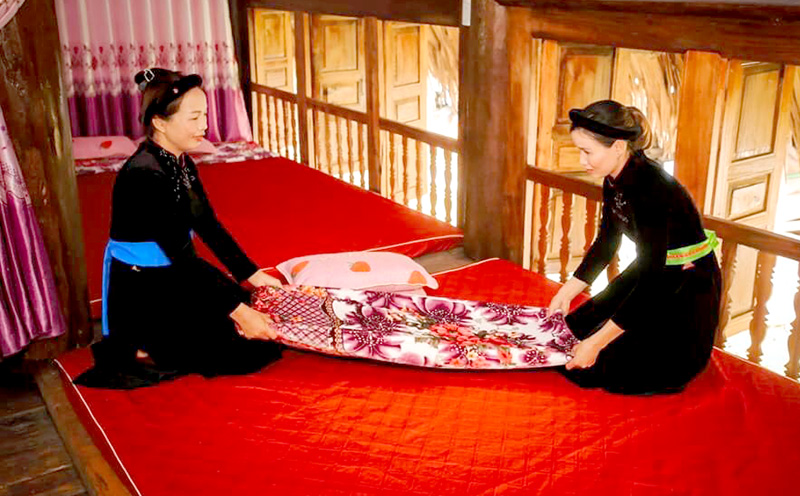 Homestay owners in Ban Ba 1 Hamlet, Trung Ha Commune, prepare to receive tourists.
Chiem Hoa District has focused on promoting homestay facilities in the communes of Trung Ha, Tan An, Phuc Son, Kim Binh, Tan Thinh and Hoa Phu. In particular, homestay facilities are being boosted at the Ban Ba Waterfall tourist attraction area in Trung Ha Commune; the community of Then singing artists in Tan An Commune; the Tang Bien ecotourism area in Phuc Son Commune; the Kim Binh special national relic in Kim Binh Commune; the Ga Pass in Tan Thinh Commune; and Dau Village and Tat Lua Waterfall in Hoa Phu Commune.
In the 2016 – 2018 period, the district assisted five households in Bo Cung Hamlet, Kim Binh Commune, to restore stilt houses for the development of homestay tourism.
In 2019, the district authorities also organised a tour for 36 representatives from potential homestay owners to visit and experience the homestay models at the Cultural and Tourism Village (Tay ethnic group) in Phuong Do Commune, Ha Giang City and Nam Dam Cultural and Tourism Village (Dao ethnic group) in Quan Ba District, Ha Giang Province.
The Thuon Chang and Phieng Khang homestay facilities in a Ban Ba Hamlet, Trung Ha Commune, were inaugurated and put into operation, creating favourable conditions for the development of homestay tourism services as well as improving the lives of the local people.