Previously, Ms. Duong was a worker at Ham Yen Forest Enterprise, and her husband, Mr. Quy, worked as a labourer to transport forest products. She and her husband live happily with 3 children and an elderly mother.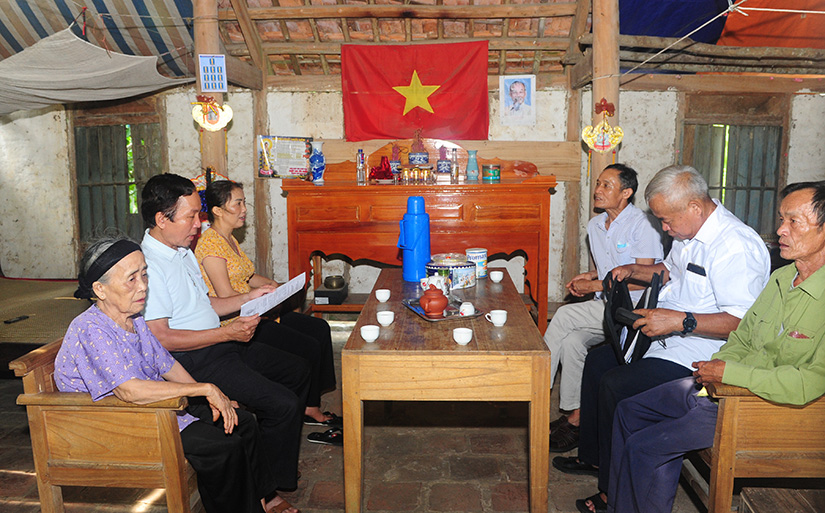 Ms. Quyen Thi Duong (first from left) and the authorities of Dong Bang resident group, Tan Yen Town discussing about making an application for escaping poverty.
In 1969, her husband was leprosy - a disease that made everyone afraid. In 1974, Mr. Quy was taken to Phu Binh Leprosy Camp (Thai Nguyen Province) for treatment. Mrs. Duong raised 3 children and an elderly mother by herself.
A few years later, Ms. Duong's youngest child was sick and passed away. Three years later, Mr. Quy returned home with the hope that he will help his wife overcome difficulties. However, he was sick again after staying at home for only a short time. He was taken to Yen Phong leprosy camp (Bac Ninh Province) and stayed there. In 2001, he died.
Ms. Duong was never discouraged although her family was difficult. She still worked hard to grow her children and take care of her elderly mother.
Mrs. Duong often reminds her children that her family gets a better life like today thanks to the help of neighbours and the government's interest. Therefore, she always to respect and believe in the State and Government.
The case of Ms. Duong making an application for escaping poverty is considered as a beautiful act which is worthy of respect and admiration. Her example contributes to encouraging the poor in the province to escape poverty.