The district authorities have effectively carried out the management and implementation of effective planning on agricultural development. Thereby, many concentrated production areas have been formed such as king orange farming areas under the VietGAP standards, tea and sugarcane farming areas, and others.
In addition, Ham Yen residents have selected key agricultural products in the locality in order to produce agricultural commodities with high margins including four-season lemons, grapefruits, apples, dragon fruit, and various vegetables.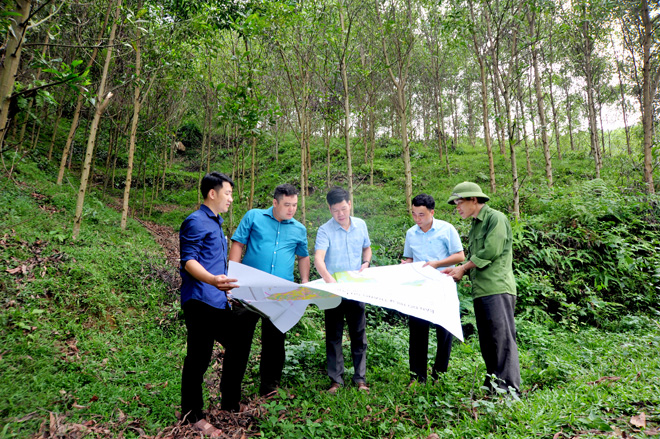 Local officials in Hung Duc Commune inspect the implementation of forestry care under sustainable forest management (FSC) standards in the locality.
The district has established three cooperatives for raising livestock, cows and Minh Huong fat ducks. The animal husbandry sector posted a total production value of VND445.6 billion in 2019, accounting for 34.2% of total agricultural production value.
Local authorities have also implemented policies to support people with afforestation by providing farmers with acacia hybrid seedling trees and assessing and certifying 2,500 hectares of forest meeting sustainable forest management standards (FSC). The volume of acacia wood is estimated at 90 m3 per hectare per 7-year cycle. Forestry production value reached over VND288.5 billion in 2019.
To date, Ham Yen District has 41 agro-forestry and fishery cooperatives; nine enterprises specialising in producing and trading in agriculture and the forestry sector and 235 farms with an average turnover of over VND835 million per farm per year.