Na Hang Town has brought fermented pork into its "One Commune, One Product" programme. To date, eight households have taken part in making fermented pork for tourists and to provide for the markets in Tuyen Quang city, the provinces of Phu Tho and Vinh Phuc as well as Hanoi. The development of fermented pork products has created jobs for locals and improved their incomes.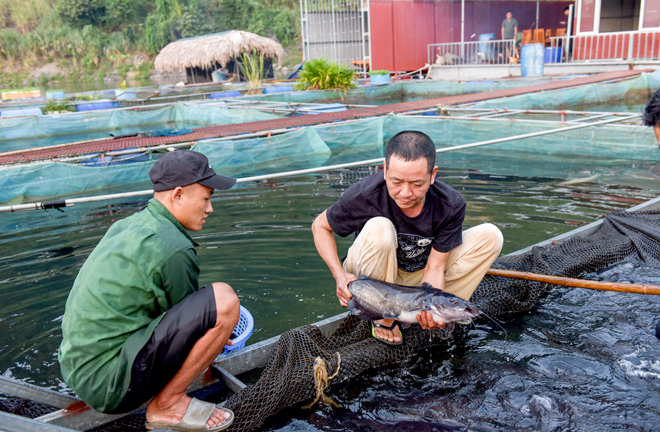 Farming specialty fish in cages is considered the direction for the sustainable economic development of local people in Na Hang Town.
In addition, the town has selected specialty fish as a key product in order to take advantage of the nearby hydroelectric lake bed. Two companies and 60 households in the locality farm fish in the lake bed in more than 200 fish cages, creating jobs for nearly 500 people. Total fishing output is estimated at over 300 tonnes per year.
Specialty fish products in Na Hang Town have been listed on Hanoi's safe vegetable and food trading floor and have been consumed at wholesale markets and retail stores in the cities of Hanoi, Bac Ninh, Thai Nguyen, Phu Tho and Tuyen Quang.
In the near future, Na Hang District will continue to maintain and expand the consumption channels of fresh seafood at traditional markets, wholesale markets and restaurants in neighbouring districts and big cities.
The local authorities have taken action to develop the product labels, brands, geographical indications and traceability information of their fish products. Besides this, the district has also promoted aquaculture ventures under the VietGAP and GlobalGAP standards to produce clean and safe products at a higher output level.