Since the beginning of the year, four new cooperatives have been established, bringing the total of cooperatives in the locality to 44, which have generated regular jobs for 521 workers with an average monthly income of VND4 million.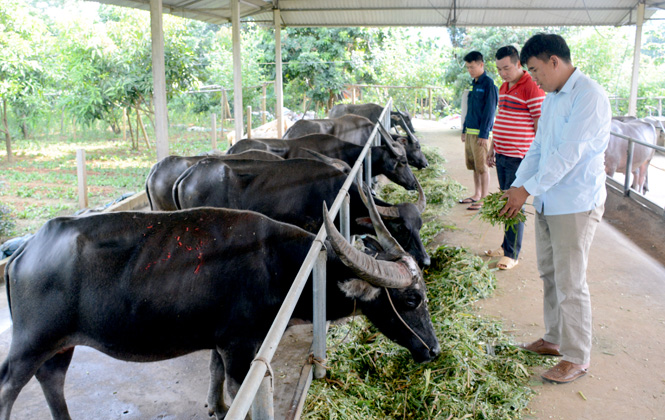 A model of raising buffalo at Tien Quang Agriculture and Service Cooperative in Vinh Quang commune, Chiem Hoa District.
Tien Quang Agriculture and Service Cooperative is the first unit to promote linkages with businesses and other cooperatives operating in breeding buffalo and cows. After 3 years, the cooperative has a total of 350 buffalo and cows. The cooperative's charter capital has increased from VND 204 million to VND 2 billion. As a result, each member of the cooperative earns a monthly income of between VND8 million and VND12 million.
Hung My Commune has over 1,800 buffalo and nearly 500 cows. To ensure effective husbandry practices, the Thanh Cong Agro-forestry Cooperative was founded with seven members to raise buffalo and cows.
Established in March 2020, Tan An Youth Agriculture and Service Cooperative in Tan An Commune has developed many new and effective economic models. Its members have focused on developing sectors including breeding buffalo and cows, fish and chickens.
Chiem Hoa District is promptly implementing policies to support its cooperatives' development while creating favourable conditions for them to get access to funding in order to expand production scale, apply science and technology, and improve the quality of their products.