Tuyen Quang Province currently has a total of over 1,600 hectares growing Shan Tuyet tea, mainly located in Na Hang and Lam Binh Districts. Of the total, Na Hang has about 1,400 hectares, mostly in the communes of Son Phu, Sinh Long, Hong Thai, and Thuong Nong.
Son Tra Cooperative in Hong Thai Commune boasts the largest market share of tea in Na Hang. Its production line has a capacity of over 1,2 tonnes of fresh tea per day.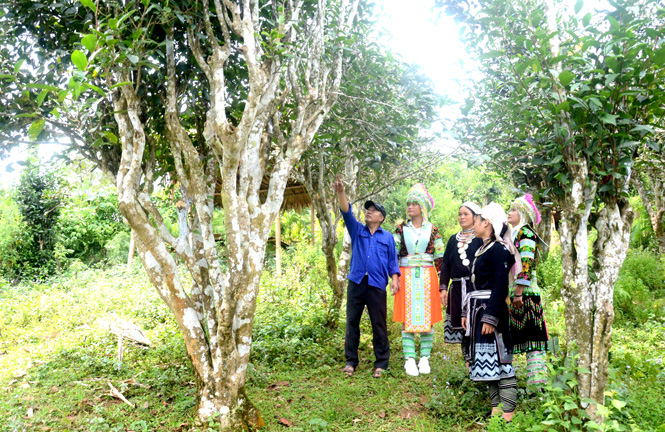 The Shan Tuyet tea growing area of Son Tra Cooperative in Hong Thai Commune, Na Hang District.
Since 2019, Thuong Nong Agriculture and Forestry Cooperative has also entered the field. Its material area covers about 80 hectares, concentrated in Pac Cung and Dong Da 2 Hamlets. The cooperative is now preparing documents for trademark registration.
The Shan Khau Mut Tho Binh tea-growing area in Lam Binh District covers over 240 hectares. The Tho Binh Commune has also established two Shan Tuyet tea producing and processing facilities, namely Dong Tien Cooperative and Phuc Hung Cooperative, promoting the two brands of Shan Khau Mut Tea and Khau Mut Tea.
Utilising funding from the the new rural building programme, the People's Committee of Na Hang District has helped these cooperatives invest in production lines and processing machines. In addition, Lam Binh District's authorities have also invested in building a road linking the centre of Tho Binh Commune and Ban Puoc Hamlet in order to remove difficulties related to harvesting tea while also helping attract investment to the locality.