Nguyen Thi Dua in the resettlement area of Ao Ho Hamlet, Minh Huong Commune, Ham Yen District said that, in the first days of relocating, her family's life was difficult. However, thanks to the assistance of commune authorities and local people, her family adapted to a new life. Being allocated land and forest, she and her family members took up cultivation and husbandry. Utilising the advantage of locality, she raised Minh Huong duck to improve her income. In 2020, her family had a new spacious house and bought all necessities such as television, refrigerator, and washing machine, etc.
Ao Ho Hamlet has resettled 16 households. Up to now, 100% of those had audio-visual equipment and 90% of households have motorbikes. In particular, many children in the hamlet have better study conditions, a lot of them passed the university exam.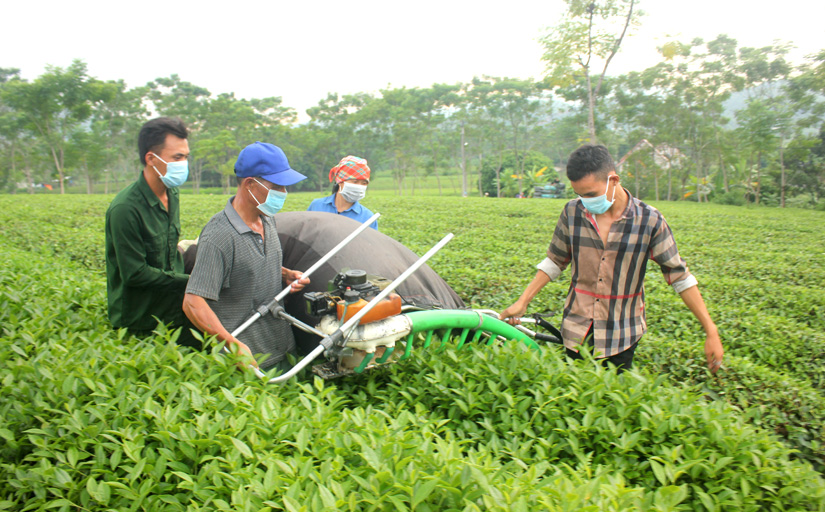 Resettlers in My Hoa Hamlet, My Bang Commune, Yen Son District harvesting tea by machine.
In 2004, fifty-eight H'mong ethnic minority households in Thuy Loa Commune, Na Hang District relocated in My Hoa Hamlet, My Bang Commune, Yen Son District. Previously, Ly A Cai's family was one of poor households in the locality, but now, his life is changing. Having allocated land, he boldly grew 6 acres of tea and raised more fattening buffaloes and cows. In 2020, he earned over VND150 million from the agriculture.
My Hoa Hamlet has 81 households. Thanks to the attention of State, local authorities, along with the production effort of people, the living standards of households in the hamlet has been improved. The poor households in the hamlet were reduced to 7, and 100% of school-aged children attended school, and 100% of families have accessed to clean water and national electricity grid, and over 95% households have had televisions and motorbikes.
To date, Tuyen Quang Province has allocated residential land for 3,915 households with an average of 300 m2 per household and agriculture land for 15,041 resettlers, reaching over 500 m2 per person. A total of 845 people received support in vocational training. About 3,776 households were supported with production costs while 5,573 families was built biogas digesters and septic toilets.
In addition, the resettlement areas have been invested in 531 construction works of roads, culture houses, schools and irrigation with a total investment capital of over VND1,000 billion. Especially, the province was supported VND500 billion from medium-term public investment to complete the resettlement infrastructure in the province, ensuring the living standards of people.