The minimum roof area for 1kWp is approximately 7.2m2. Installation costs range from VND16-VND17 million per kWp.
The province has 65 customers applying this model with a total capacity of 1,381.8 kWp. Most of the households have installed solar panels to meet their energy demands, thereafter selling redundant electricity to the power company.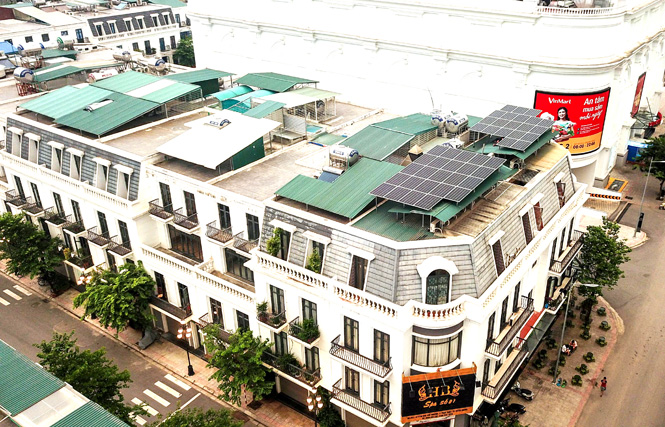 Rooftop solar power systems installed by residents at the Vincom Shophouse in Tuyen Quang city.
However, the installation process has thrown up a number of difficulties such as customers' lack of understanding there of and confusion over technical requirements, the fear of investing in rooftop solar power installation due to a lack of information, and high installation costs, amongst others.
There are currently three ways of investing and using solar power: customers install solar panel systems to serve their power demands and sell the surplus electricity to the electricity sector, customers sell all solar power to the electricity sector, and customers install solar panels themselves and use all the generated electricity.
Nevertheless, the electricity sector has recommended that people should use both solar power and the national grid to avoid power waste as well as to offset power outages in case of cloudy weather.
The solar power installation has helped the electricity sector to increase its output to meet the demands of daily life and the production needs of both people and enterprises.