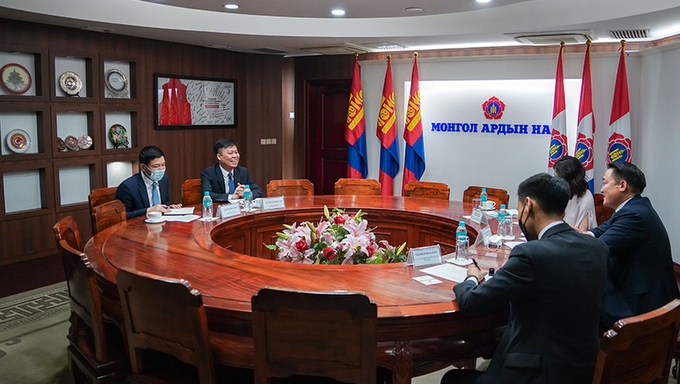 At the meeting between Vietnamese Ambassador to Mongolia Doan Khanh Tam and General Secretary of the Mongolian People's Party D.Amarbayasgalan. (Photo: NDO)
At the meeting, Ambassador Doan Khanh Tam congratulated the achievements that Mongolian Party and people have gained over past 100 years.
He also informed of the main results of the 13th National Congress of Communist Party of Vietnam as well as directions, missions and strategies on socio-economic development and foreign policy of the country.
The ambassador affirmed that Vietnam has always attached great importance to the development of its long-standing friendship with the People's Party, State and people of Mongolia while hoping that the two sides would continue to strengthen their effective exchange and coordination at regional and international forums and multilateral activities, for peace, stability and development in the region and the world.
He stated that he would do his best to make great contributions to the relations between the Parties, States and people from the two nations under the spirit of the Memorandum of Understanding signed by the two Parties in 2019.
For his part, General Secretary of the Mongolian People's Party D.Amarbayasgalan expressed his belief that Vietnam will successfully implement the socio-economic development missions and goals as well as control the COVID-19 pandemic effectively.
He said that Vietnam and Mongolia should continue to boost practical cooperation, especially in the fields of economy, trade, tourism and investment.
The two sides agreed several immediate priority measures to enhance relations and cooperation through the two Parties, States and people-to-people exchanges, including priority on opening direct flights, transit transport, tourism and agriculture.