Son Duong District currently has Son Nam Industrial Park with 7 projects and total investment capital of VND200 billion, and Phuc Ung industrial cluster attracting 11 projects with a total investment of over VND1,100 billion. These conditions have helped Son Duong become a bright spot, an attractive selection for both domestic and international investors.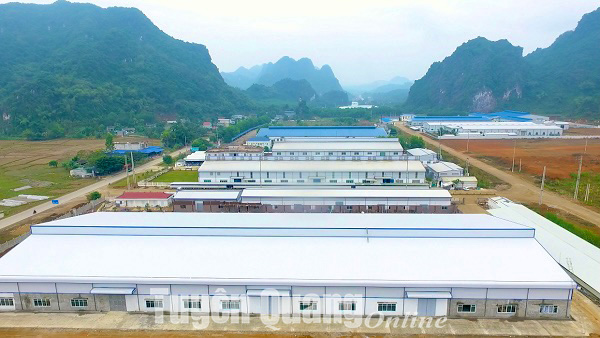 An overview of Phuc Ung Industrial Complex in Son Duong District.
In 2021, Son Duong District has 19 projects that have been granted investment certificates by competent authorities with a registered capital of over VND2,000 billion. Most of projects focus on industry, tourism, trade - services, health, environment such as: JW Agricultural Product Processing Factory (Korea) in Phuc Ung Industrial Cluster, mining kaolin and feldspar by open-pit method in Son Nam Industrial Park, and Hoa Lung Lake Park Tourist Area in Dai Phu Commune, etc.
With efforts to improve competitiveness and business investment environment, Son Duong District will attract many projects, develop local economy and society, and increase budget revenue and income for the locals in the near future.