Hung Duc Commune possesses more than 4,500 hectares of production forest area, accounting for 76% of the commune's natural land. This was the first locality in Ham Yen District to apply afforestation methods under the FSC standards to households and groups of households in January 2019. The Ham Yen District People's Committee has cooperated with Phu Lam Agro-Forestry Development Joint Stock Company to speed up the project's progress.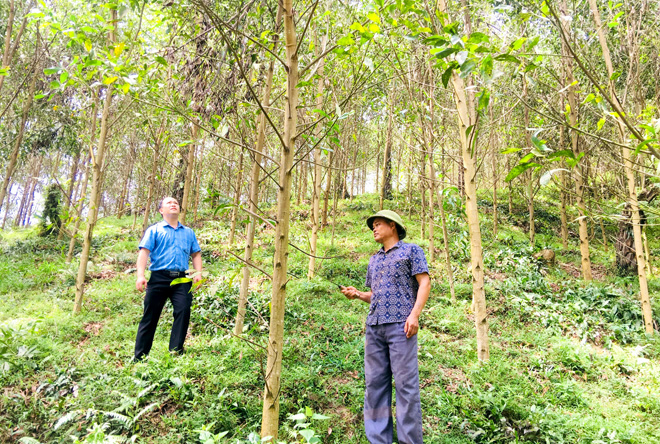 FSC-certified forest of Tuong Van Thanh's family in Cay Thong Hamlet, Hung Duc Commune, Ham Yen District.
Accordingly, Phu Lam Company has invited experts to survey the initial forest area for the household groups. During the process of sustainable forest management, the company has coordinated with local authorities to organise training courses on the FSC's forest management principles for the locals.
Currently, the commune has nearly 2,400 hectares of forest registered under FSC standards. Many households have developed their economics thanks to afforestation in combination with animal husbandry, contributing to sustainable poverty reduction.
In order to generate momentum for the development of forest-based economy, the commune has integrated capital sources to support seedlings for people to plant forests. Since 2016, the locals have been provided with more than 500,000 acacia and seeds for a total area of 330 hectares. During the 2016 - 2020 period, the commune's afforestation always exceeded the set plan by 2%-5%.