Realising the value and potential of banana fruit, Tam came up with the intention to process banana products under the model of crispy dried banana chips according to modern technology scale, without using preservatives.
In August 2020, he established An Quang Cooperative with 7 members and invested over VND1.3 billion to build production facility with an area of over 300 m2 and buy machines.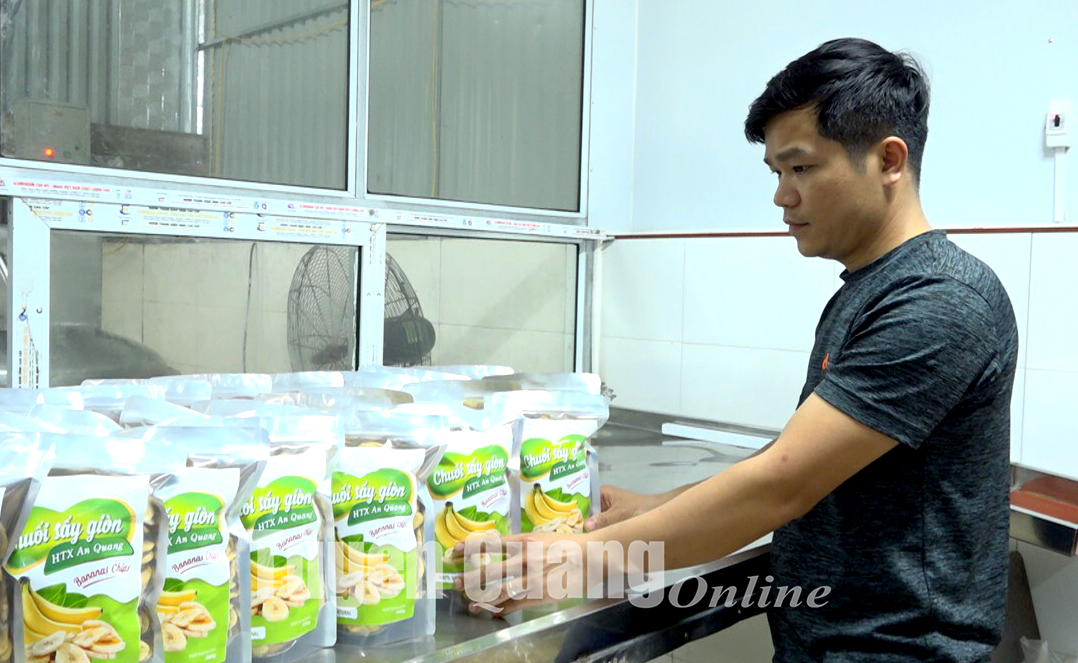 Ho Van Tam, Director of An Quang Cooperative in Tan Thinh Residential Group, Son Duong Town (Son Duong) introducing crispy dried banana products.
Through many his trials, the product of crispy banana chips was completed. Bananas are dried by modern methods, so they do not pollute the environment and ensure food hygiene. The product has an eye-catching colour and is not smoky.
With the first batch of dried bananas, he introduced this product on social networks such as Facebook and Zalo. His crispy dried banana product was highly appreciated by customers.
With the desire to expand production scale, An Quang Cooperative signed a purchasing contract with 15 banana growing households in Son Duong, Yen Son and Chiem Hoa districts with an area of about 5 hectares, an average of 30 tonnes of fresh bananas per month. The purchasing price is about VND2,500 - VND3,000 per kg.
Currently, the cooperative produces 6 tonnes of dry products each month, creating jobs for 7 local workers with a monthly income of VND4 million - VND5 million per person.
The selling price of crispy dried banana product is VND60,000 per kg. Crispy dried bananas have met the needs of the market both inside and outside the province. Especially, the cooperative's products have been exported to countries, including China and Malaysia.
Currently, the cooperative has completed the dossier and submitted it to the Provincial People's Committee for evaluation the crispy dried banana product as a three-star OCOP product.