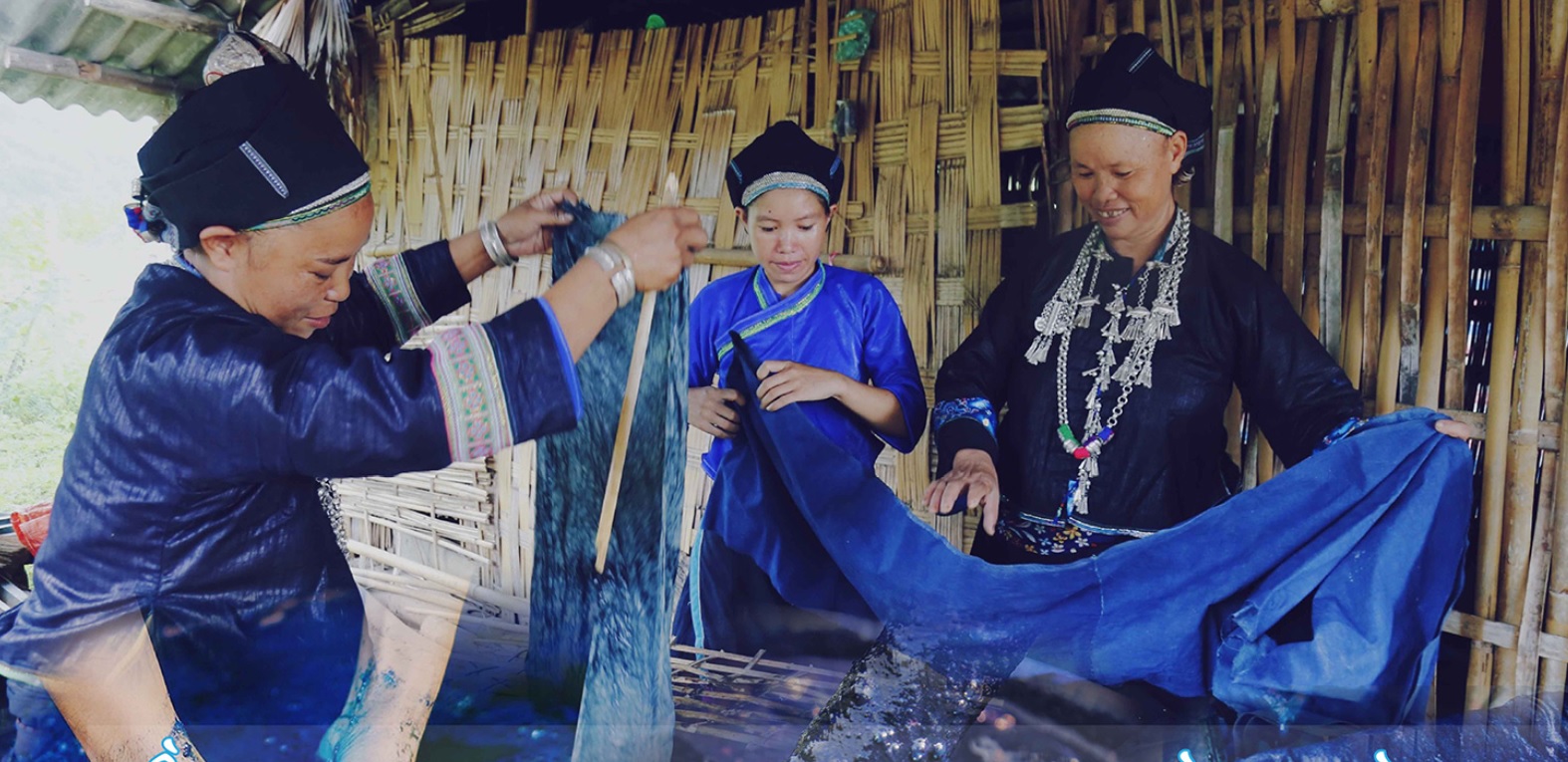 God-given seeds
In Bum Ken Hamlet, most of Nung households plant indigo trees around their garden and along hillsides. The Nung women are alsways awareness of nurturing and caring for indigo trees as well as harvesting seedings for the next crops. This is a way to show their appreciation of these god-given seeds like the ancient story of the Nung people passing down through generations.
Once upon a time, people knew how to grow cotton trees for weaving and making clothes. However, their outfits were very simple and just had only white colour. That was reason why they were detected and attacked by wild animals. In contrast, there were many kinds of beautiful fabrics that gods in the heaven could not wear them all. In this situation, Nung people discussed and asked a clever bird to fly to the heaven to find out the secret. When the bird got the seeds from the sky, the Nung people were overjoyed and then sown these seeds everywhere. Day by day, these seeds sprouted and developed into indigo trees. When people touched them, the indigo resin latched right on to their hands and clothes, creating variegated colour. Since then, they have formed the idea of dyeing their outfits by indigo trees as a way to live in harmony with the nature.
Spiritual secrets
"When growing up, i follow my father to plough/ Follow my brother to hunt in the forest/ When growing up, you follow your mother to embroider/ Follow your sister to dye new dress with indigo colour", these Sli singing of the Nung ethnic people seem to contain many messages to the Nung girls. At the ages of 15 - 16, the Nung girls in Bum Ken start to learn how to brew and dye indigo. In addition, they are passed on the spiritual secrets by mothers and grandmothers.
According to the Nung custom, they select a good day before brewing indigo trees and closing the indigo liquid containers in order to avoid the "god's punishment" day (the death anniversary of grandfather, grandmother, father and mother). Indigo leaves are cleaned, then put in a barrel and soaked with salt water. The water in the container are stirred until it is blue. When the starch settle at the bottom of the barrel, remove water in it. This mixture is further mixed with powdered lime, ash and alcohol. In order to get the desired colour, every stage need to be done skillfully and carefully.
In addition, for each indigo container, just only one person implement all of the processes during brewing indigo in order to avoid bad luck. Especially, this person must keep her body and mind clean and comfortable. Only then, she can make a patch of qualitative indigo glue.

Indigo-clour hands
The Nung families in Bum Ken Hamlet start the stage of indigo dye in August.
This process is not difficult but requires perseverance and industriousness of dyers. Normally, family members or neighbours standing, working and chatting together while dyeing fabric. The stage of soaking, wringing and drying is repeated within one week. Gradually, their hands are also dyed indigo. Those hands symbolise the woman's dexterity as well as cultural beauty and community cohesion of the Nung people.
The Nung women dye indigo fabric on sunny day. Before being dyed in the indigo barrel, the fabric needs to be soaked in cold water. The dyer need to squeeze fabric firmly and evenly in order to let indigo glue absorb into fibers. After 30 minutes, they take it out, then wring and dry it beneath the sun.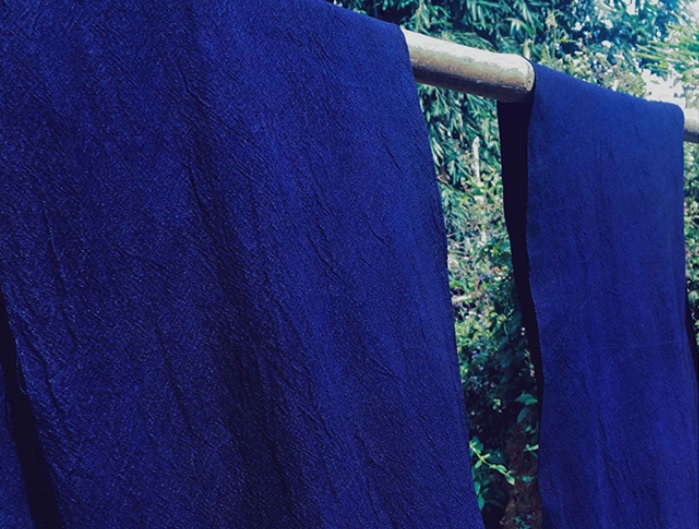 With this completely handmade method, indigo dyed fabrics have a fresh and cool colour. The Nung people often use these fabrics to sew clothes, scarves, bags, and blankets, etc.