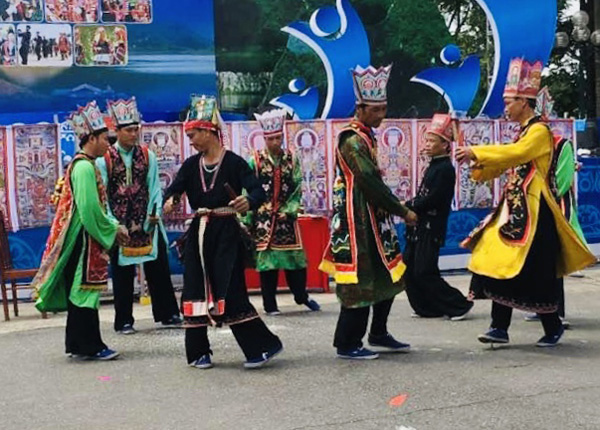 The dance of "Tet Nhay" of the Dao people in Tuyen Quang Province.
The main purpose of the "Tet Nhay" ceremony is to both worship Ban Vuong (the primitive ancestor of the Dao ethnic community), and train horses to protect their family and support production activities.
Annually, the "Tet Nhay" ritual is held on the December of lunar calendar. Chickens, pigs, wines, and cakes are indispensable offerings in the ritual.
The Dao people only invite two shamans to host the ritual. The process of practicing the ritual contains: setting up; disinfecting; praying; inviting the gods, Ban Vuong and ancestors to attend the ceremony.
After completing the procedures, The Dao people start the ceremony with the dance of "Tam Nguyen am ham". Next is the dance of "Tet Nhay" - sword dance. "Bat Ba Ba" (catching turtle) is the finally dance in the ritual. At the end of the ceremony, the families pray to Ban Vuong and ancestors to bid farewell to the gods.
The "Tet Nhay" ritual is a humane ceremony as it encourages people to remember their ancestors. In addition, this ceremony also establishes a link strengthening the community and the relationships between both family members and among villagers.