The newly-built bridge connecting Phuc Ung and Hop Hoa communes in Son Duong district has satisfied the expectations of locals. The bridge has helped boost local economic connections for communes in the area, while also dispelling worries surrounding floods.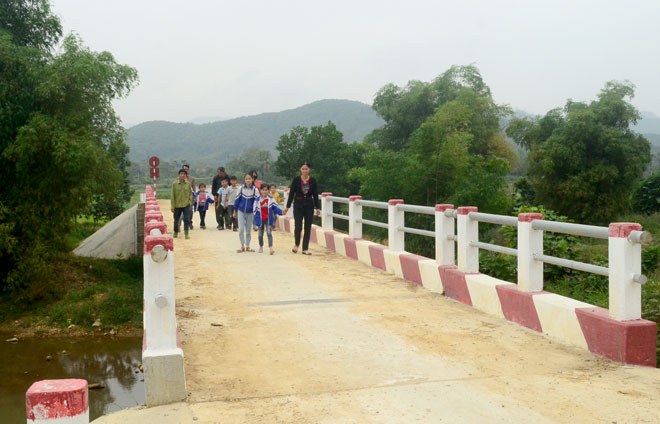 The local bridge in Cay Tho village, Duc Ninh commune (Ham Yen district) has been completed and put into use to serve people's daily life and activities.
In 2018, in Yen Thuan commune, Ham Yen district, there were two bridges constructed and put into use in Hao Bo village. Previously, when flooding season had arrived, people's lives were turned upside down as floods completely cut off their means travel. However, since the new bridge that crosses the stream, vehicles can come to the foot of the hill to collect local farmers' agricultural products.
Along with multiple small bridges that have been completed and put into use, and major ones across the Lo River which some have just been inaugurated and are others are still under construction, they have solved the "bottlenecks" to promote socio-economic and regional linkage. Binh Ca Bridge on the Ho Chi Minh Highway crossing Tuyen Quang was inaugurated and put into use from February 2019. The facility has helped connect arterial routes and attract tourists to unique national relics in the province, such as Tan Trao relic site in Son Duong district and Kim Binh commune in Chiem Hoa district, as well as connecting Tuyen Quang city with other large economic centres in the region.

The completion of Binh Ca Bridge contributes to the province's socio-economic development.
Beside Binh Ca Bridge, Tinh Huc Bridge project is on its final stages and is expected to be completed before April 30, 2020. This is the province's state-of-art cable-stayed bridge, featuring an lighting system that projects artistic lighten images using led lights. From the main bridge, there is a branch leading to the Tinh Huc islet below and another branch from Tinh Huc islet to the former to facilitate visitors coming to an eco-tourism area to be built at Tinh Huc islet in the future.
New solid bridges have been completed, thus nourishing locals' dream for a prosperous life.