First step in building his family's special vermicelli brand
Da Vi Commune possesses a large number of Tay ethnic minority people who live under traditional yin and yang title roofs. Annually, on the occasion of the lunar July full moon festival, the Tay people in the commune soak Bao Thai rice to make fresh vermicelli serving with duck meat. Gradually, they came up with the way to create dry vermicelli in order to store every year. Born into a family of three generations of vermicelli making, Huong was imbued with the traditional dry vermicelli making skills from his grandmother and mother.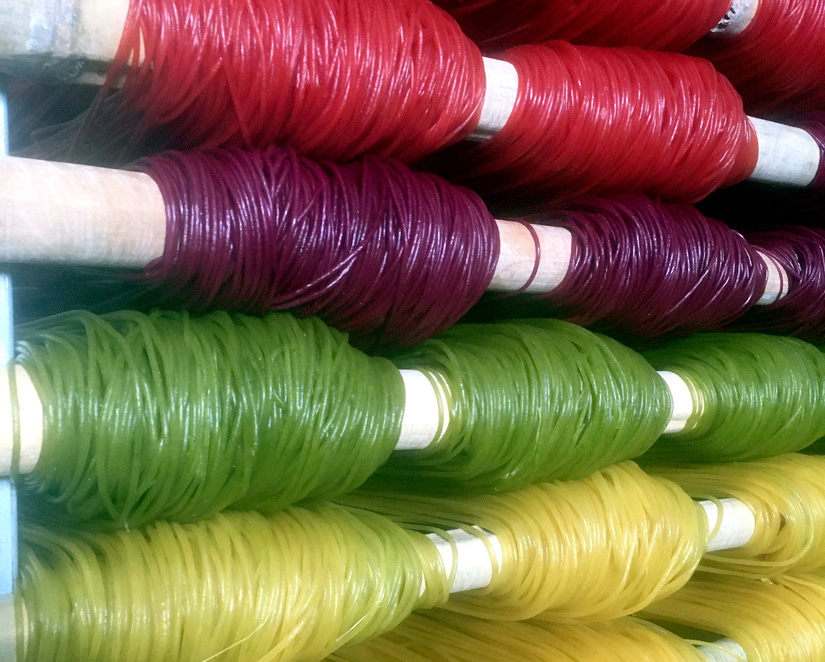 Hua Van Huong decided to immerse Tay people's identities to each batch of vermicelli.
The vermicelli facility of his family has created jobs for 4 labours. Every month, vermicelli consumption is estimated about 3 tonnes. According his family, it takes 100 kg "Bao Thai" rice to make 80 kg dry vermicelli. The selling price of dry vermicelli is VND35,000 per kg. His family's dry vermicelli was recognised as three-star OCCOP product.
Leading us to the facility, Vi Thi Huyen, his mother said: "Actually, my family advised him to find a stable job after graduating but he wanted to develop vermicelli brand of my family. He is active and passionate about vermicelli making. Therefore, he was elected as Deputy Director of Da Vi Agricultural Cooperative by local people. Since the "One Commune One Product" programme was launched across the province, Da Vi Commune oriented dry vermicelli as a key product. He and other members in the cooperative proactively introduced this product both inside and outside the province and received many positive comments of customers".
In the beginning of 2021, Huong's grandmother made dry five-colour sticky rice of the Tay people for ancestor worshiping. Seeing the vibrant colour of the sticky rice, an idea flashed in his mind. He decided to create five-colour vermicelli product. From his grandmother's recipe, he successfully produced the first batch of five-colour vermicelli in Da Vi Commune. This product made a strong impression on diners and tourists.
Five-colour vermicelli is best serviced with minced duck meat, dry bamboo and laksa leaves. Huong affirmed that his family will focus to produce dry five-colour vermicelli and consider as a long-term direction in the near future.
Selling the first batch of dry five-colour vermicelli outside the province
In the last lunar July full moon festival, all members in his family helped him to make a "dream" batch of dry five-colour vermicelli with 50 kg of "Bao Thai" rice.
In the Tay custom, each colour of the vermicelli represents the five elements of the nature: Kim (metal), Thuy (water), Moc (wood), Hoa (fire), Tho (earth). The colours all originate from leaves of different forest trees such as magenta plant, turmeric, and moringa that are ground or boiled to exact the colours.
The stage of cutting five-colour vermicelli.
Each bag of dry vermicelli is about 1kg and packed carefully with label. He provided this product to customers inside and outside the province such as Ho Chi Minh City, Lam Dong, Hanoi, etc. In the coming time, he will connect to supermarkets in Hanoi and other cities to sign consumption contracts and promote online sales.
As a Deputy Director of Da Vi Agricultural Cooperative, Hua Van Huong wanted to be a pioneer in applying modern technology to make vermicelli and bringing the unique identity of Tay people into each strand of vermicelli. He believed that tourism in Na Hang will restart after the Covid-19 pandemic and create favourable conditions for Da Vi five-colour vermicelli being widely promoted.