Hanoi - the 1000-year-old capital of Vietnam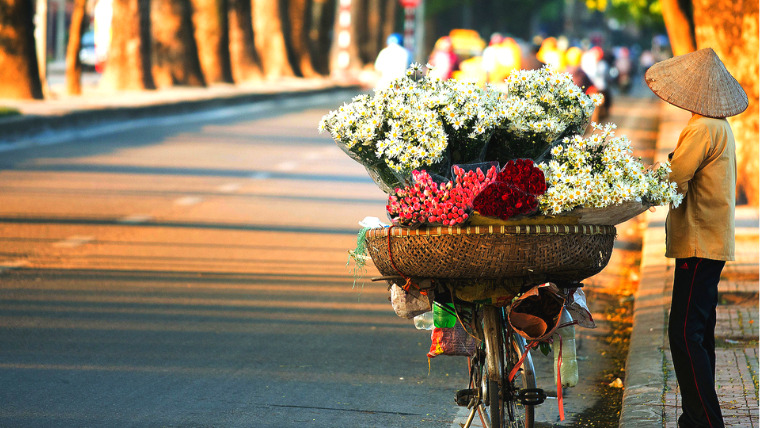 Source: amasiatravel
Standing on the top of must-visit travel destinations recommended by Vietnam Trips, Hanoi with a rich history & culture, would be the perfect starting or ending point of your trip to Vietnam. As the capital of Vietnam, Hanoi, although modern, still has a somewhat old and nostalgic beauty in it.
Located in the center of the Northern Delta region, this city has four distinct seasons: spring, summer, autumn, winter, and is convenient to visit all year round. In particular, Hanoi from autumn to early winter is said to be the most beautiful time, clearly showing the romantic and poetic nature of the capital land. The weather during this period is less hot, sunnier with some random drops of temperature, adorned by the scent of milk flowers wafting through the old streets full of moss.
It is hard to find many cities in Vietnam that have a large number of historical architectural works, belonging to many eras with different styles, like Hanoi. Those are not only from the feudal dynasties such as the Temple of Literature or the One Pillar Pagoda, but also the remaining products from the French colonial period such as the Opera House, Notre Dame Cathedral, Long Bien Bridge,... If you have the chance to visit Hanoi, you should also spend time checking out other outstanding destinations such as Sword Lake, Uncle Ho's Mausoleum, and especially the Hanoi Old Quarter.
Another point that attracts millions of visitors each year to the capital is its cuisine. Traveling to Hanoi, you shouldn't miss out on world-famous specialties such as pho, fried fish with turmeric and dill, young green rice,... This place also has an interesting street culture, you can wander on the interlaced streets, stopping at roadside eateries to enjoy street foods or drinking a beer on the sidewalk. In addition to the beautiful landscapes and famous dishes, the Hanoians are also a special "attraction", carrying a characteristic mark of grace, elegance and sophistication.
Ho Chi Minh City - the best cities in Vietnam to visit
Source: pixabay
Known as the sleepless city in Vietnam, Saigon appears with a strange charm whether early in the morning or at night. Many people who come here are immediately impressed with the image of a young Ho Chi Minh City, always living in a busy, vibrant rhythm full of excitement. You can easily find here dozens of tall buildings nestled together, or busy shopping and entertainment areas, but there is also no shortage of ancient villas and hundreds of years old traditional markets. Therefore, the best way to explore this city is to rent a motorbike and travel around every corner.
As many other famous cities in Vietnam, when coming to Ho Chi Minh City, you will be able to visit countless famous tourist and majestic historical sites of Vietnam such as Nha Rong Harbor, Cu Chi Tunnels, Saigon Opera House, Buu Long Pagoda... Saigon also offers many tourism "specialties" such as cruising along the Saigon River by boat, visiting Nguyen Hue pedestrian street or Bui Vien beer street, shopping at Ben Thanh market or bathing at Can Gio beach. When night falls, don't forget to stop by Starlight Bridge or Notre Dame Cathedral, and enjoy a cup of coffee - an unmistakable beauty of this city named after the great former president of Vietnam.
The cuisine is also another thing that makes this place chosen as one of the best cities in Vietnam to visit. This is the convergence of many quintessences of cultures, creating unique and rich dishes that are still in harmony with local flavors. In particular, the street food of Saigon is something you can't miss, with mixed rice paper, pickled fruits, baked eggs, broken rice, pha lau, banh mi… Getting to know the open-minded and liberal locals, you will definitely agree that Ho Chi Minh City is a perfect destination for anyone who likes a bustling and active environment.
Da Nang - dubbed as the most liveable city in Vietnam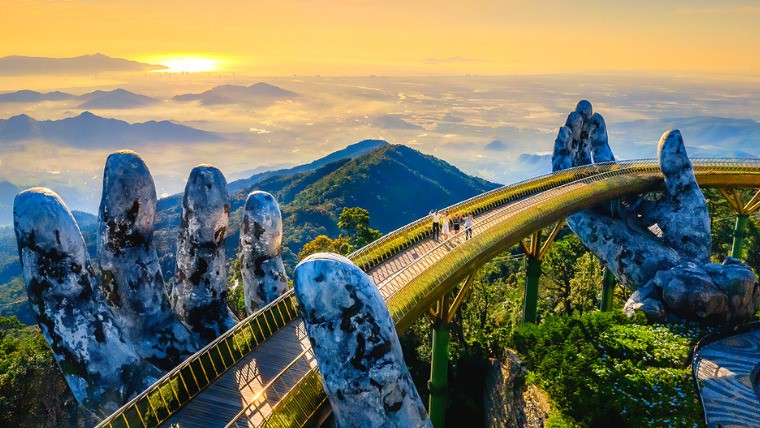 Golden Bridge - a new symbol of Da Nang tourism - Source: danangfantasticity
This is one of the most beautiful coastal cities in Vietnam, centrally located between Hoi An Ancient Town, My Son Sanctuary, and Hue Ancient Capital. Da Nang is almost equidistant from Ho Chi Minh City and Hanoi, with bus, train stations, an airport, and piers, convenient for travel. The best time you should come here is in the summer from June to August, when the weather is sunny and extremely pleasant to swim at My Khe Beach, and participate in water activities such as scuba diving, windsurfing, etc. In addition, the security in Da Nang City is another plus point, you are completely assured when traveling here.
Another point that makes Da Nang one of the worth-visiting cities in Vietnam is the unique bridge. This city is also known as the city of bridges, on the Han River only there are already 6 of them with different designs, including Dragon, Han River Swing, Thuan Phuoc,… Coming to Da Nang, you can fully experience the feeling of going up to the forest to going down to the sea with Son Tra peninsula or Ba Na Hills, visiting ancient craft villages such as Non Nuoc stone handicraft or Cam Ne mat. After having fun at these attractions, don't forget to enjoy the delicious cuisine here, with Quang noodles, chicken rice, banh beo, rice paper, seafood, and so on.
There are more than 80 cities in Vietnam, and each of them has its own unique beauty hard to find elsewhere. Hopefully, the above information will make it easier for you to choose a place to visit.
About Vietnam Trips
- Company: Local Sunshine Co. Ltd - Experience Vietnam like a local!
- Address: No.27 To Vinh Dien Street, Thanh Xuan District, Hanoi, Vietnam
- Website: https://vietnamtrips.com/
- Fanpage: https://www.facebook.com/amazingvietnamtrips
- Gmail: localtravelidea.info@gmail.com