Khuoi Nhi Waterfall is located in Thuong Lam Commune, Na Hang District, Tuyen Quang Province. Amidst the majestic mountains surrounded by lakes, the waterfall is hidden among the green forest layers.
Tourist boats take visitors to the edge of the forest where has the foot of the waterfall.
The way to go to Khuoi Nhi Waterfall is not as easy as any waterfall in Vietnam. To reach the waterfall, visitors must take a boat ride on Na Hang hydroelectric lake to go to the mountain where has waterfall. Leaving the boat, tourists will be instructed the way to the waterfall by a local guide.
Tourists have to wade the streams to get to the waterfall.
To get to the waterfall, explorers need to cross the forests and climb on the rocky trails. During the journey, visitors will be satisfied with the beautiful scenery of Khuoi Nhi Waterfall because each layer of the waterfall is like a beautiful picture.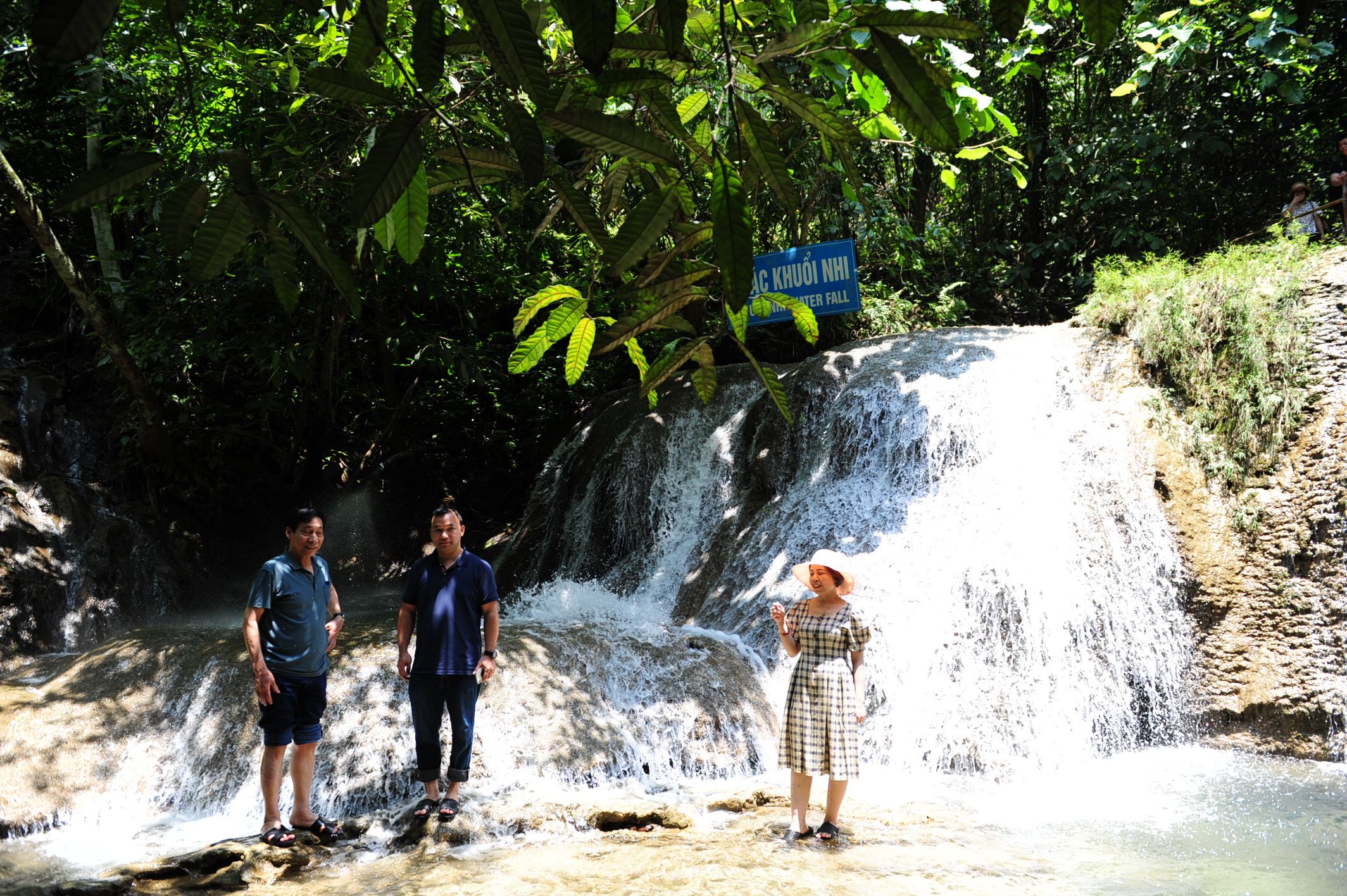 The first layer of Khuoi Nhi Waterfall.
The waterfall has many levels, stretching 3 km from the top of the mountain to the soft lake. Large bodies of water pour down through many limestones, dividing the water flow like giant paper fans with white foam. Above and on both sides of the waterfall is covered in vegetation with flowers blooming all year round.
The second layer of Khuoi Nhi Waterfall.
The third layer of Khuoi Nhi Waterfall.
Resting at the waterfall, discoverers can sit on the edge of the water to relax and enjoy a foot massage when small fish gather together and nibble at their feet.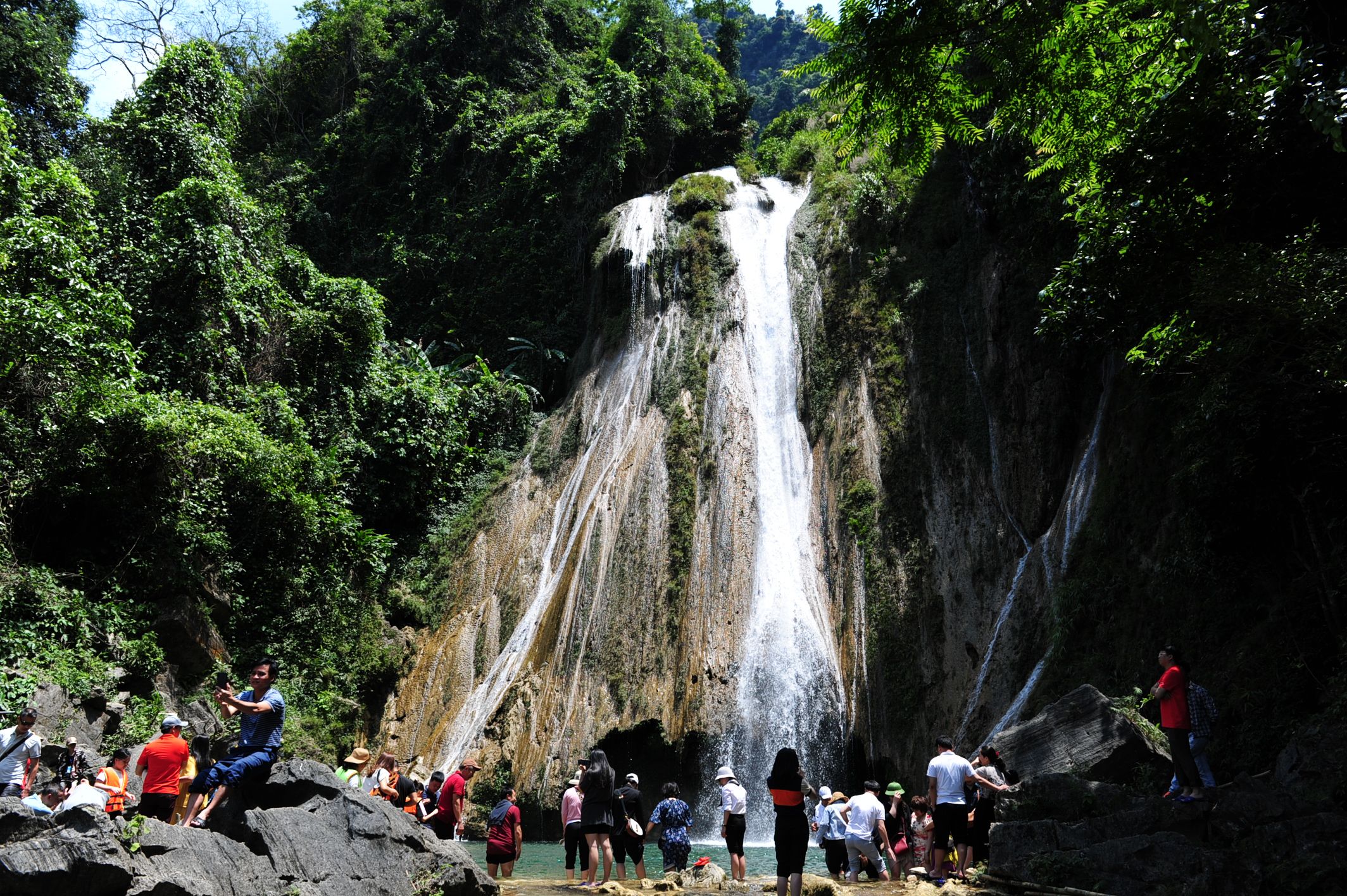 Thousands of tourists experience the waterfall on hot summer days.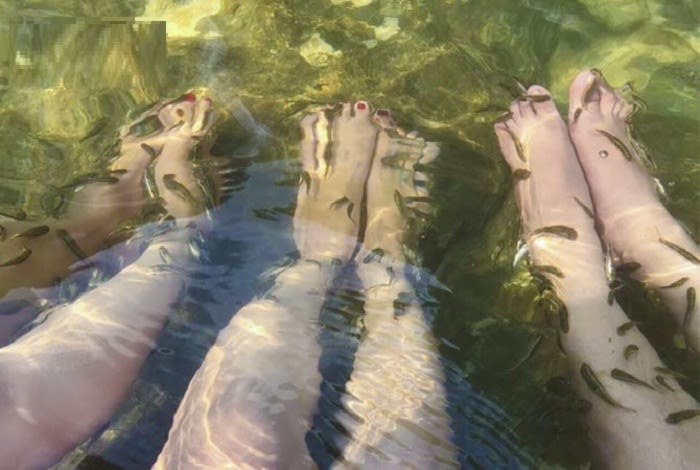 Tourists enjoy a foot massage service when small fish gather together and nibble at their feet.
Khuoi Nhi Waterfall in the middle of a "Ha Long on land", is a beautiful image of people and nature in Tuyen Quang. This is also an indispensable destination for tourist when coming to Tuyen Quang.