Tuyen Quang has more than 600 historical and cultural relics, more than 22 ethnic groups with their own cultural identities. In particular, Na Hang - Lam Binh nature reserve is considered as "Ha Long on land" with a diverse ecosystem, many rare flora and fauna, unique and pristine caves and waterfalls that have created a source of natural resources.
Promoting that advantage, the province has focused on developing tourism products, especially unique products. Ms. Nguyen Thi Thu Ha, Head of Tourism Management Divison, Department of Culture, Sports and Tourism, said that the survey program selected potential destinations such as community-based tourism, eco-tourism and experience tourism. Thanks to that, the delegation researched and evaluated tourism resources and proposed plans and solutions for tourism development in the locality. This is also the basis for consulting, orienting, attracting investment of tourism enterprises and developing specific tourism products in the coming time.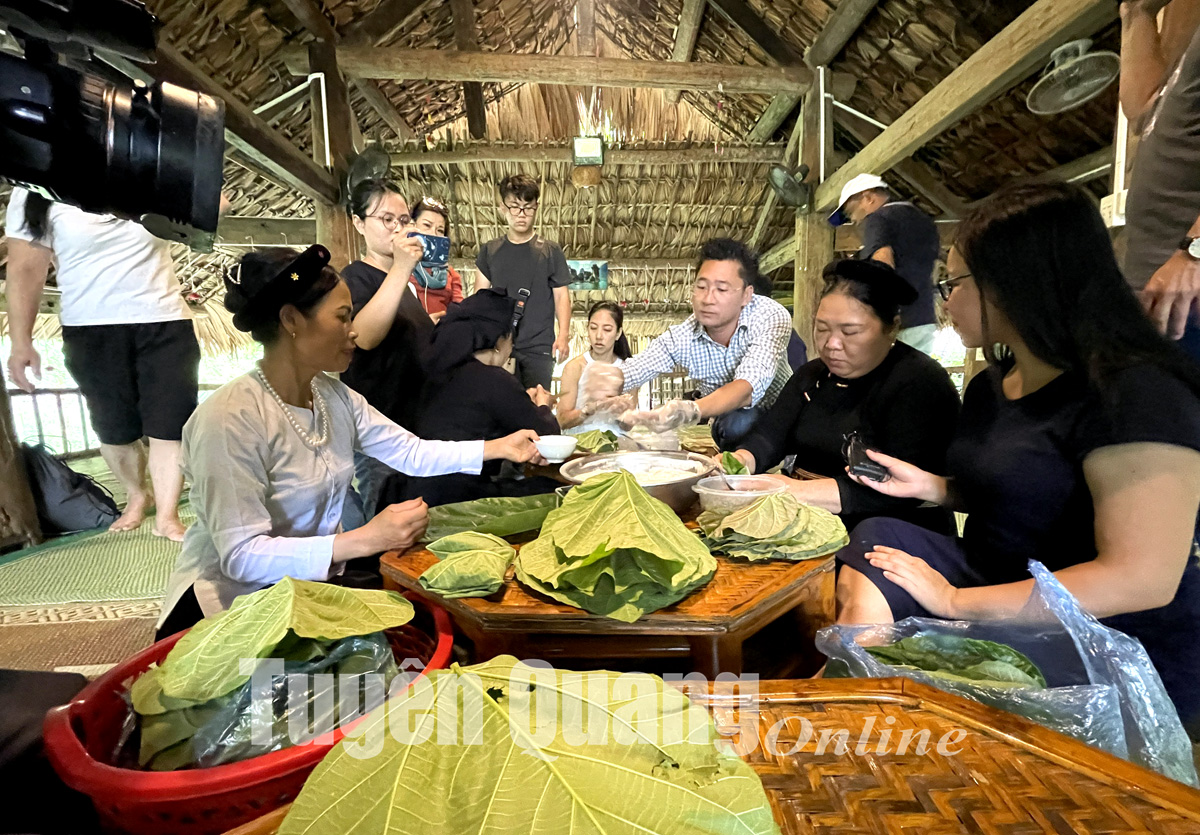 Visitors experience making ant's egg cakes in Lam Binh District.
At the end of April 2022, the Department of Culture, Sports and Tourism organised a survey to survey a number of potential tourist destinations in Ham Yen, Yen Son and Son Duong districts, Tuyen Quang city. The delegation surveyed the experience models of garden houses and Tay ethnic cultural villages in Pac Cap Village, Phu Luu Commune (Ham Yen); Dong Phai waterfall, Hop Hoa Commune and Nieng Village in Minh Thanh Commune (Son Duong); Dao ethnic village and Gio Cave in village 4, Tan Tien Commune (Yen Son), etc.
Recently, the new tourism product survey program of "Legend of Gam River" organised by Vietravel Tourism Company visited and experienced tourist attractions in Son Duong and Lam Binh districts. The trip lasted 7 days and 6 nights took the Presstrip 2022 delegation with nearly 60 guests from many provinces to explore outstanding tourist attractions such as Khuoi Nhi waterfall, Tan Trao special national monument, etc.
In the first fourth months of 2022, Tuyen Quang province has welcomed more than 700,000 international and domestic tourists. To welcome over 2 million visitors in 2022, in addition to promoting the cultural characteristics of the province through cultural festivals, the province will connect and invite travel agencies to the locality to survey and develop new tourism programs, making an important contribution to the early recovery of the tourism industry after the Covid-19 pandemic.