Na Hang ecological lake.
Looking down from above, Na Hang township nestles within rolling mountain ranges. The blue Gam River smoothly flowing in the heart of Na Hang, with bridges across, has added to the beauty of a highland municipality. Under the eyes of planners, if Na Hang township is invested in a methodical fashion, using Gam River as the main axis to create landscape on its both sides, along with the unique landscape of the Na Hang ecological river-bed, the locale will be one of the most beautiful district-level municipalities in the northern mountainous region. Na Hang is striving to build itself into a fourth-class city. This is an inevitable step as Na Hang has achieved vigorous transformations, requiring a new level of urban development.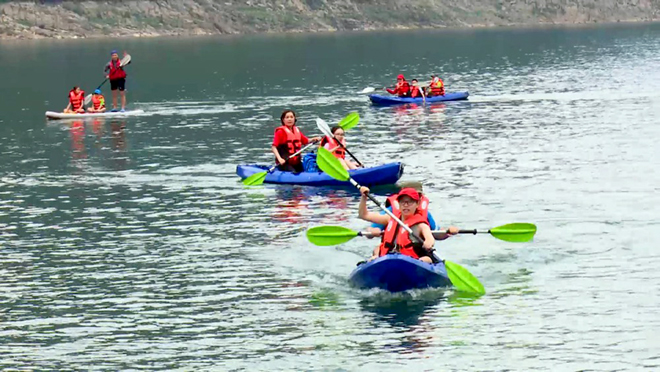 Kayaking on Na Hang ecological lake. Photo: K.T
In recent years, Na Hang has recorded a relatively fast economic growth, which is a significant result of agricultural development. In its agricultural production, Na Hang district not only ensures food security but also tends to thrive on commodity production, thus helping the people to get rich from agriculture. With its advantages, including a large area of protection and special-use forests (over 21,000 hectares), as well as an ecological lake and many typical agricultural products such as dried buffalo, pear, plum, seedless persimmon and tea, Na Hang district has determined the acceleration of agricultural development towards commodity production and clean agricultural development associated with ecotourism.
Booth to introduce Na Hang agricultural products at the 9th congress of the provincial Farmers Association 2018. Photo: Ly Thinh
In order to boost the development of commodity agriculture, the district has implemented many solutions to establish safe vegetable production zones and develop tea trees in the direction of quality improvement, while implementing a scheme on the development of some commodity crops for specialty glutinous rice, soybean, green bean, and vegetables, in addition to a pilot cultivation project of some specialty rice varieties of high quality and economic value, which are suitable to the local soil conditions.
Dao Tien ethnic minority girl, Hong Thai commune on terraced paddy fields. Photo: Quoc Viet
Recently, many businesses have been interested in surveying investment in planting, processing and consuming tea products in the locality. There are currently two companies, twp cooperatives, one cooperative group and 14 households involved in the purchase and processing of tea across Na Hang district. The locale is cultivating more than 1,295 hectares of specialty tea, including nearly 1,266 hectares of Shan Tuyet tea and 30 hectares of Kim Tuyen and Phuc Van Tien tea. Up to date, Na Hang has 93 households and three businesses involved in aquaculture with 675 fish cages of all kinds, generating a total output of 657 tonnes of aquatic products. Some of the district's products have already been trademarked, namely Na Hang clean fish, Hong Thai safe vegetables, Na Hang Shan Tuyet tea, and ​​Kia Tang mount tea. Agricultural commodity production proves to be an important solution in helping Na Hang to effectively implement hunger eradication and poverty reduction, and improve the people's income.