The Hong Thai terraced fields.
Nang Kha commune has over 10,000 ha of natural land and favourable geographical position as it is served by the National Highways 279 and 2C and an inter-district road. In the past two years, many households here have bravely invested in developing homestay tourism services with a number of attractive activities.
Located at an altitude of over 1,000 metres above sea level, Hong Thai commune is becoming an ideal tourist destination. After many years of organising the upland culture and tourism festival with diverse activities such as paragliding, pear collection and Com (young sticky rice) making, Hong Thai has become widely known to tourists outside the province. Every year, the commune welcomes nearly 20,000 visitors.

The 'mang ngoc' racing festival on the Na Hang ecological lake attracts a lot of people and visitors.
To tap into its tourism potential, Na Hang organises traditional festivals annually such as the Long Tong festival of the Tay ethnic group, the fish catching festival in Nang Kha commune, the Com making festival, 'mang ngoc' (a rudimentary means of travelling on water) racing, and Then singing and Tinh gourd lute clubs, while building and developing the cultural, spiritual, ecological and community-based tourism.
The inter-regional and inter-provincial tourism development cooperation activities have also been accelerated. Currently, visitors to Na Hang can come to the Ba Be Lake special national relic site (Bac Kan province) and Bac Me district (Ha Giang province) via waterways. In addition, the district has actively worked with authorised agencies of Tuyen Quang and Bac Kan in developing and finalising a dossier to ask for UNESCO recognition of the Ba Be-Na Hang natural heritage area as a world natural heritage site.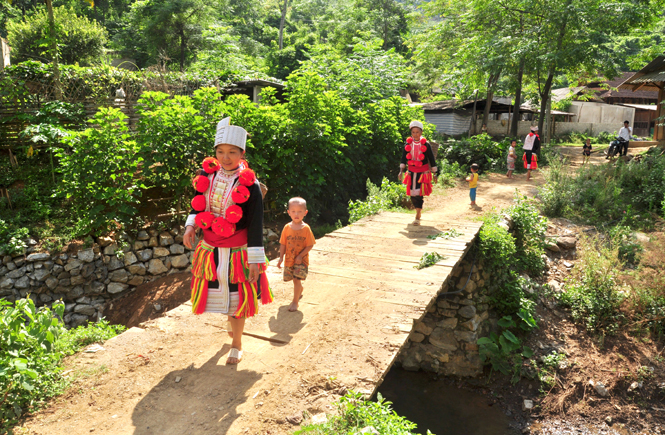 The Red Dao people in Tuyen Quang still preserve their traditional costumes.
Na Hang district continues to raise people's awareness of the roles, position and importance of tourism and services to the socio-economic development, as well as the responsibilities of individuals in protecting a sustainable tourism environment.