From now until the end of May, the Na Hang tour featuring its high-speed boats is fully booked, a good signal for both the boat owners and travel businesses.
In addition, Viettel Tuyen Quang has coordinated with functional agencies in the province to build a broadcast station in the Khuoi Nhi Waterfall area. After nearly two months of construction, Viettel Tuyen Quang has completed and put into operation the BTS 4G station to meet the needs of both local people and visitors as the tourist season approaches.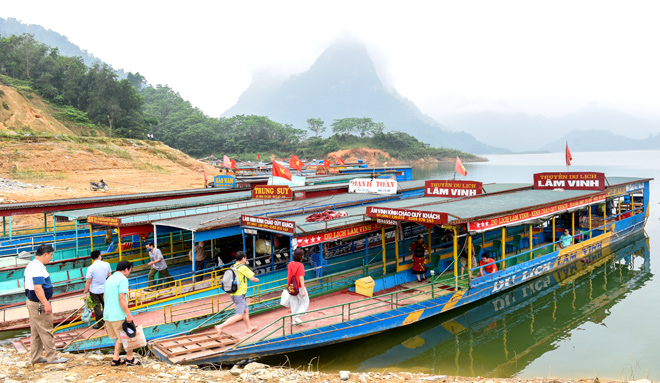 Na Hang launches its 2020 tourist season.
With the goal of attracting over 138,000 visitors in 2020, the People's Committee of Na Hang District has drafted a plan on tourism promotion for both domestic and foreign tourists. Local authorities have also built tours linking with neighbouring districts such as Ba Be (Bac Kan Province) and Bac Me (Ha Giang Province).
The People's Committee of Na Hang District has directed its departments to implement a programme entitled "Vietnamese people travel Vietnam" in the near future, as launched by the Ministry of Culture, Sports and Tourism; while at the same time, develop guidance regulations to ensure safety for tourism activities, tourists, workers and the local community.
Tuyen Quang Province is also completing a dossier and procedures seeking UNESCO recognition of the Na Hang - Lam Binh Lakes as a world natural heritage site. This is an important mission in order for Na Hang to promote its economic development as well as create jobs and improve incomes for the local people.