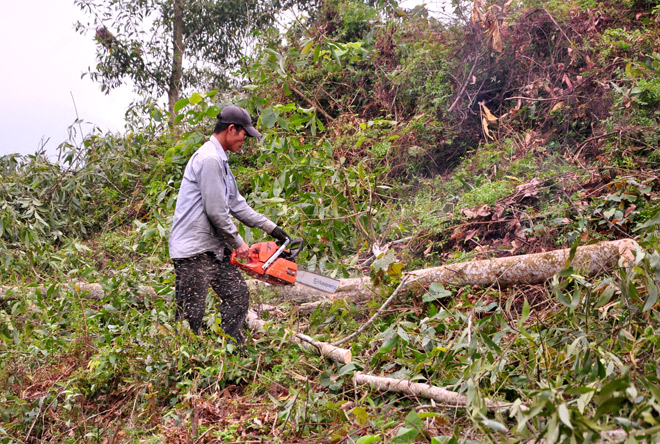 The locals in Chan Son commune, Yen Son district, cutting timber from the planted forest.
As of mid-August, the localities in the province have cut 6,462 hectares of timber, with the productivity of over 491,545 cubic metres, accounting for 57.2% of the plan for this year.
Accordingly, many districts saw a high output of cut timber such as Yen Son with over 2,111 hectares (surpassing 60% of plan), Ham Yen with 1,875 hectares (61%), Na Hang with 317 hectares (60.9%) and Lam Binh with 186 hectares (64%).
In the remaining months of this year, the local authorities will mobilise people to select the appropriate time to cut timber from the areas of old forests in order to clear the land in preparation for the new afforestation.
The provincial Department of Agriculture and Rural Development will direct specialised agencies to closely monitor the exploitation of planted forests as well as assign cadres to grasp the situation and promptly consult the localities in removing difficulties and obstacles related to wood purchase and processing.
The Department will also coordinate with the People's Committess of Tuyen Quang city and districts to review the land fund in order to develop plans for wood cutting and consumption.
The communication and mobilisation of locals to actively cut timber from planted forests will be enhanced, with the priority of selling timber for making papers for local enterprises.