The pagoda is located in a high and spacious position. The temple was designed with "Dinh" (丁) word - shaped architecture, including two main houses: the incense burners and upper power. An Vinh Pagoda still preserves a lot of valuable relics and antiques, typically 12 wooden statues in the upper power, such as the sets of Tam The, Bo Tat, Ngoc Hoang and Cuu Long.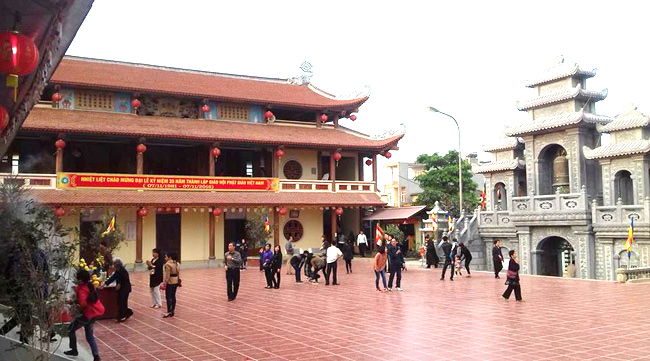 Tourists visit An Vinh Pagoda.
The pagoda possessed two valuable ancient steles in terms of historical research and art in the Le Dynasty, including "Tao Tac Hung Cong Bi Ky" and "Trung Tu Bao Phuc Tu Bi Ky", and many other historical objects.
Every year, An Vinh Pagoda organises many festivals such as the "Khai But", or Pen-brush opening, ceremony (held from the first day to the fourth day of the first lunar month); the Thuong Nguyen ceremony to pray for the nation's peace (held on the 15th day of the first lunar month); and a ceremony to celebrate the birth of the Buddha (held on the 15th day of the fourth lunar month).
Currently, the tour operators have built tours for tourists to visit famous temples and pagodas in Tuyen Quang Province, such as the An Vinh Pagoda - Hang Pagoda - Phuc Lam Pagoda tour and the Den Mau Temple - Den Thuong Temple - Den Ha Temple - An Vinh Pagoda - Hang Pagoda tour, contributing to introducing and promoting the beauty of Tuyen Quang's land and people.