Preserving cultural identity combination with developing tourism
When the Dao Identity Preservation Club in Trung Ha Commune (Chiem Hoa District) was launched, Mr. Ban Van Minh performed all the rituals from hanging pictures to worshiping, inviting the Jade Emperor by horn, and reporting to the ancestors. From early morning, all of people in the commune come to the communal culture house to enjoy his performance. For local people, this is an important event. Their cultural features such as embroidery, 'cap sac' ritual, writing, etc. were restored, contributing to making the Dao people's identity "resurrected" after years of oblivion.
It can be seen that the handshake between culture and tourism has created a positive effect for many localities in Tuyen Quang Province. In which, the restoration, preservation and promotion of ethnic minority cultural values are considered as the root of sustainable development.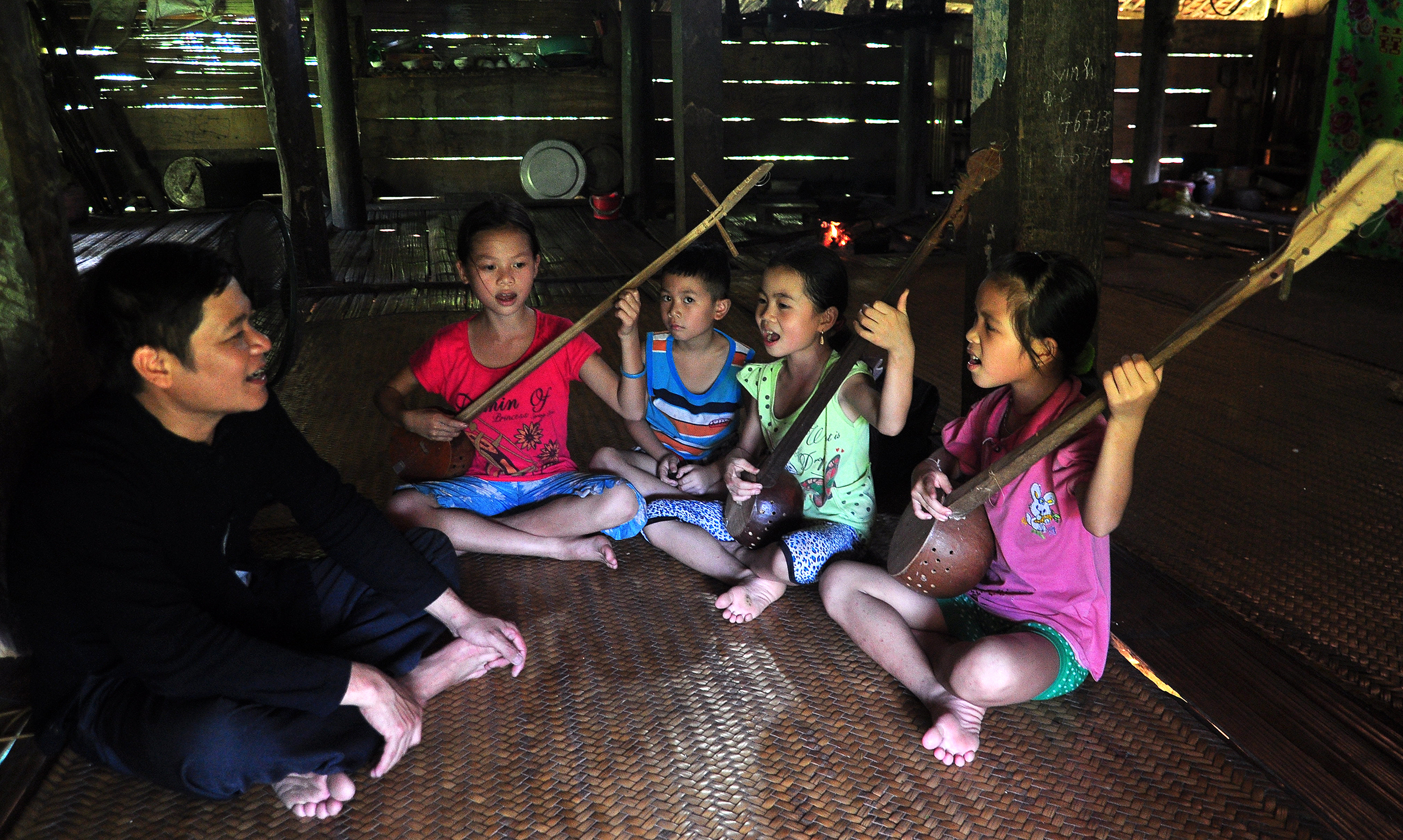 Children in Ban Va Hamlet, Yen Hoa Commune (Na Hang District) practicing Then singing and playing Tinh gourd lute.
Traditional festivals of the province are restored and organised every year include Long Tong Festival of Tay ethnic group, 'Cap Sac' ritual of Dao ethnic group, Fire dance festival of Pa Then people, etc.
In addition, in the villages, artisans open training courses in writing, embroidery, and language, arousing the love of cultural identity among young people. Thank to the local authorities' encouragement, cultural preservation clubs were established.
Sing Ca singing club of Cao Lan people in Thang Quan Commune (Yen Son District).
Currently, Tuyen Quang Province has more than 200 clubs of folk singing and preservation of national culture, 70 clubs of practicing Then singing - Tinh gourd lute, 6 clubs of Pao Dung singing of Dao ethnic group, 13 'Sing Ca' singing clubs of Cao Lan people, 50 clubs of using and preserving the ethnic language. These clubs and their performances has become a specialty feature to welcome tourists.
These steps has gradually changed people's thinking in preserving culture in a systematic way to develop sustainable tourism and enrich their homeland.
Unique cultural tourism products
Tuyen Quang has many distinct tourism products, creating a competitive advantage, including historical and cultural tourism with the two special national historical monuments in Tan Trao (Sơn Duong District) and Kim Binh (Chiem Hoa District), etc. Now, Tuyen Quang has 635 historical, cultural and scenic sites, which are likened to the "revolutionary museum" of the country as well as the destinations of foreign tourists.
In addition, the annual 'Le hoi Thanh Tuyen' (Tuyen Quang City Festival), which is also known as Tuyen Quang Mid-Autumn Festival with a large scale have become the pride of the locals. Every year, the festival is invested and innovated to attract thousands of domestic and international tourists. Besides, visitors are also impressed by the traditional festivals of ethnic minorities in the province such as Long Tong Festival, Fire Dance Festival, Fairy Cave Festival, etc.
From the diversity of communal houses, temples and pagodas, spiritual tourism is also a trademark tourism in Tuyen Quang. Therefore, the province annually welcomes a large number of pilgrims.
Foreign tourists experiencing the culture of local people in Lam Binh District.
Along with tourism products in association with unique historical and cultural features, the locality has connected with My Lam eco-tourism and resort (Tuyen Quang City), Na Hang - Lam Binh ecological lake, and homestay facilities. In particular, the typical type of tourism that creates a highlight in Tuyen Quang is community-based tourism.
The districts and city in the province have built and established a number of community tourist sites, attracting many tourists, such as Na Tong homestay in Thuong Lam Commune, Nam Dip homestay in Lang Can Commune (Lam Binh District); Khau Trang homestay in Hong Thai Commune (Na Hang District), etc.
Diversity in tourism promotion
The power of communication has the ability to influence brand value, and regulate consumer behaviour of tourists. Therefore, in order to create a spillover effect, Tuyen Quang's tourism industry has increased promotion. In which, the province has focused on coordinating with Vietnam Television Station, VTC Digital Television, Travel Magazine, Tuyen Quang Newspaper, and Tuyen Quang Provincial Radio and Television Station to promote the brand, build video clips, musical films, documentaries.
Identifying the Internet as one of the effective means of communication, cultural management units, districts and city set up websites to promote tourism. For example, dulichtuyenquang.gov.vn, lehoithanhtuyen.vn. In particular, businesses, tourism managers and tourists can easily update and search for tourist information via the address https://MyTuyenQuang.vn. This is a smart travel application on mobile devices that integrates tourist digital maps of Tuyen Quang Province.
Tuyen Quang culture promoting on Youtube channel and a scene of music video in Na Hang District.
The development of digital technology has opened up many opportunities for the provincial tourism industry to exploit. There are many fanpages were established such as Thanh Tuyen Festival, Na Hang Tourism, Lam Binh Tourism, Son Duong Tourism, etc, and receive positive comments of viewers.
In addition, on the youtube social network, young ethnic people in the locality also seek to promote tourism culture through actual videos. With attractive videos, they are promoting the image of the homeland in the most simple way.