Vietnamese fermented pork: Vietnamese fermented pork is a specialty of Na Hang District that has attracted many visitors thanks to its unique flavour. The pork belly of black pigs is sliced into small pieces and then mixed with various kinds of leaves, salt and wine.
Next, the local people cook glutinous or sticky rice and let it go cold. The rice is then mixed with the meat. The mixture is kept in a jar for a few days so that it can ferment naturally.
Chicken steamed with lime leaves: Chicken are raised naturally here, so the fowl are extremely fragrant with crispy skins. As a result, lots of tourists are especially interested in chicken steamed with lime leaves because the chicken's natural tasty flavour remains intact.
After rubbing salt on the skin, the chicken is rewashed with water. Then it is steamed with lime leaves and smashed lemon grass. After the steaming process is finished, the chicken is taken out and cut into bite-sized pieces once it has cooled.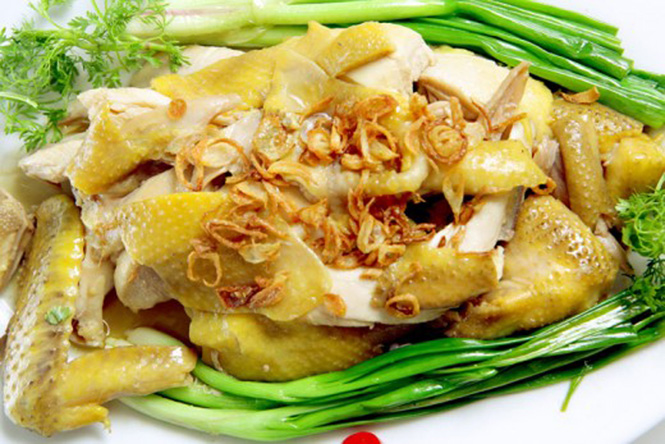 Chicken steamed with lime leaves.
Grilled loach: Grilled loach, a famous dish in Na Hang, not only is tasty but also has a great effect on improving people's health.
After being cleaned, the fish is clamped to a grill on a wood burning stove. A fine chili salt is spread on the fish being grilled. You will enjoy the fleshy flavour of the fish meat, and the crispy and greasy taste of its skin.