In 2011, Nhan Muc Commune only achieved three out of the 19 criteria for new-style rural area standards, but in 2018 the commune reached all the set targets for being recognised as a new-style rural area as planned. Right from the start of its new rural area construction campaign, the commune has determined that income criteria is an especially important criterion, playing as a prerequisite for realising other criteria.

Agricultural products from Ham Yen District introduced in Tuyen Quang City.
The commune has actively integrated other support programmes and projects into the campaign to boost production development, with typical examples being a project supporting local farmers to invest in intensive farming to increase productivity and quality of fish, a project investing in high quality tea varieties, and another one supporting breeds of chickens, goats, buffaloes and cows for locals.
Duc Ninh Commune has 40 ha of pomelos, 20 ha of oranges and 10 ha of dragon fruits. The annual average income of locals in the commune is now at VND38 million per person, while the rate of poor households stands at only 4%. Thanks to the convenient transportation system, most of the fruits are bought by traders directly right at local fruit gardens.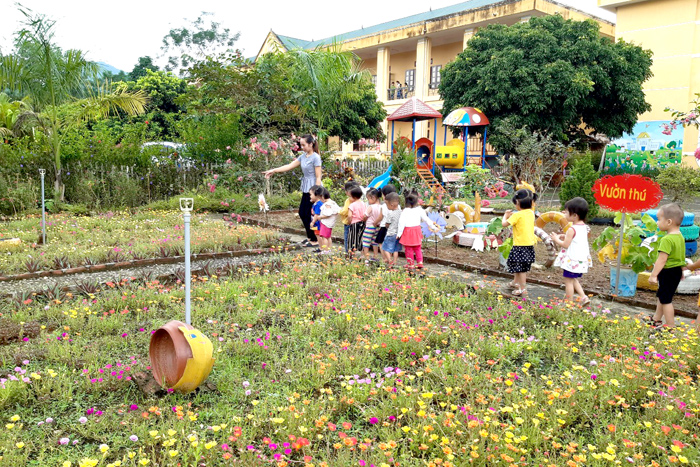 Outdoor activities at Minh Huong Kindergarten.
By the end of 2019, Ham Yen District has four communes meeting the new rural are standards. The district strives to add Phu Luu and Minh Dan communes to the list by 2020. The new rural are construction programme has received warm response from the people as they are also striving to become the key in the campaign. This is the premise for Ham Yen to soon be recognised as the first new rural district in the province.